Below you can find a large selection of apartments in private accommodation on the island of Krk. Enjoy the privacy and the vacation that feels like home. With a detailed search, you can filter the apartments according to various characteristics (capacity, amenities, destination).
The best selection of apartments on Krk island
The island of Krk has so many rental apartments to choose from that it would be almost impossible to choose between all of them. That's why we used our detailed knowledge of every corner of Krk island, of the rental owners and of all user experiences and preferences that we collected in the past 20 years to assemble the best selection of Krk apartments, at the most convenient prices on the market.
Here you can find just the perfect Krk apartment to satisfy all your needs and expectations. After all, you need an apartment that will give you all the comforts of your home, but also so much more. Perhaps a mesmerizing sea view, a beautiful terrace to enjoy outdoor living or maybe a balcony over a busy old town alley so you can drink your morning coffee and soak up the invigorating small-town Mediterranean atmosphere?
We made sure our selection covers Krk island apartments of all styles. So if you prefer modern decor, you won't have any problems finding the right one for you. The same is with traditional apartments in old, charming and beautifully restored stone houses. In these apartments, you can experience the true Mediterranean island life of old times. Easy, slow-paced, relaxed, just what you need during your holiday. If you like to experience something "out of the box", then you will enjoy the quirky apartments in our selection that have an eclectic or even a retro vibe.
Can you expect modern amenities in Krk apartments?
Regardless of their decor style, most of the apartments have all the modern amenities. Free Wi-Fi internet is a standard in almost all of the apartments in our selection. So you can continue to have a strong connection to the online world even on your vacation. That is if and when you choose to do so, or you can turn everything off and truly relax. It is entirely up to you and it's important to have options, and free Wi-Fi gives you just that.
The same goes with air conditioning, most of the apartments are equipped with it. So you don't have to worry about becoming too hot outside, because you can find refuge in your apartment and cool down inside. Kitchens in the majority of our apartments are fully stocked with kitchen utensils, pots, cutlery, etc. In most of them, you can expect a microwave and regular oven, electric kettle, toaster, filter coffee machine, and refrigerator with freezer. Cable TV is also a standard.
Would you prefer a Krk apartment close to the beach or with a pool?
If you like staying close to the beach, we can certainly understand that. There is nothing better than sleeping with the sound of waves and waking up with the morning sea breeze. In our selection, we have many apartments with a sea view and close to the beach. That way a swim in our beautiful, crystal clear Adriatic Sea, is just a few minutes away.
But a refreshing swim can even be mere seconds away if you book one of our Krk apartments with pool. They are ideal if you don't like crowded beaches and endless quests to find a free spot to put down your towel. Can you picture yourself sunbathing beside your own private pool, sipping ice tea or even cocktails, and taking a dip in the water whenever you need refreshment? Sounds absolutely fantastic, doesn't it?
Do you desire a peaceful vacation? Book an apartment in rural areas of Krk island
Are you a nature lover that prefers the sound of birds singing, rather than hearing the murmur of human voices? If that is the case, here you can find a fine selection of Krk island apartments that are located inland. These apartments are located in private houses in rural areas, surrounded by lush vegetation. Here you can experience the long-awaited restful and relaxing holiday. You can enjoy outdoor living in your private garden and terrace, lounging, barbecuing or engaging in sports and family activities.
Apartments in Krk town put you near various shops, bars, cafes and numerous activities, while our Malinska apartments are great for families and close to the sea and beaches.
And finally, if you are planning a romantic holiday, you should check out our Vrbnik apartments. Vrbnik is a charming village known for great wine, rich history and fascinating scenery. Because of its position on a cliff high above the sea, apartments in Vrbnik offer breathtaking panoramic sea views.
Aleksandra - in quiet location, with big garden
Risika
9.1/10 based on 5 reviews
Alenka - well equipped apartment in good location
Vrbnik
8.9/10 based on 4 reviews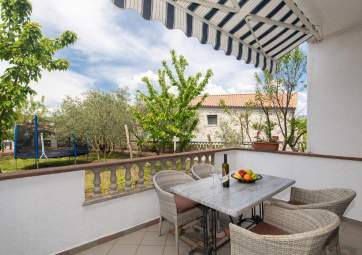 Ana 1 - in peacefull location with spacious terrace
Vrbnik
9.2/10 based on 2 reviews
Ana 2 - in quiet location, for relaxed holidays
Vrbnik
8.7/10 based on 5 reviews