Vrbnicka zlahtina is a high-quality dry white wine produced from grapes that are grown exclusively in the Vrbničko polje field on the island of Krk. This fine golden droplet compliments Krk cuisine as its indispensable addition and is often served throughout Croatia and beyond.

Read on and get acquainted with this indigenous grape variety, the pride of the island of Krk, especially of the unique town of Vrbnik. Vrbnicka zlahtina is an essential part of many wine lists in restaurants, wine boutiques and luxury hotels of excellent reputation.

The story of Vrbnicka Zlahtina wine
As mentioned earlier, Zlahtina is a fine light white wine made from the indigenous grape variety of Krk vineyards, the white Zlahtina variety. This grape variety only grows in the Vrbničko polje field, which covers more than 200 hectares in a valley located on the northwest side of Vrbnik. The 1890s saw the first appearance of this exquisite grape variety on the island of Krk. Then later, Zlahtina appeared in the Vrbničko polje field between World War I and II.

The name itself comes from the word žlahten, which means noble. The harsher climate, fertile soil and protected area give Vrbnicka Zlahtina wine its magnificent refreshing taste and strong aromatic floral notes with a strong flavour of apple, immortelle, and wild service tree. Wine lovers will certainly appreciate all the main flavours of this indigenous grape variety transformed into a light, golden-yellow wine with 11% alcohol content.


A unique environment for an exeptional grape variety
In order to best understand the uniqueness of Vrbnicka Zlahtina wine, let us introduce to you the seaside town of Vrbnik, the most charming destination on the island of Krk. You will see its 900-year-long history in every corner and narrow alley, and it takes you back to another time back in history when exploring Vrbnik.

The town once used to be a significant Frankopan castle and a religious and Glagolitic center (the oldest Croatian alphabet from the 9th century) under the protection of St. John the Baptist. The town is considered the cradle of literacy in Croatia. It is undoubtedly one of the oldest settlements on the island. "Love at first sight" is totally possible once you visit Vrbnik thanks to its high cliffs and town walls, a bell tower and stone houses leaning against each other, as well as narrow streets and alleys (it should not come as a surprise that the narrowest street in the world is located in Vrbnik).

What is fascinating is the old town because it gives the impression of rising from the sea and makes a setting that really cannot be seen everywhere. This town made of stone is a real treat for all true lovers of history, breathtaking architecture, and picturesque landscapes. Lovers of romantic destinations and those who do not enjoy mass tourism can find their place here under the sun. Vrbnik is also an ideal starting point for exploring the island of Krk and its surroundings.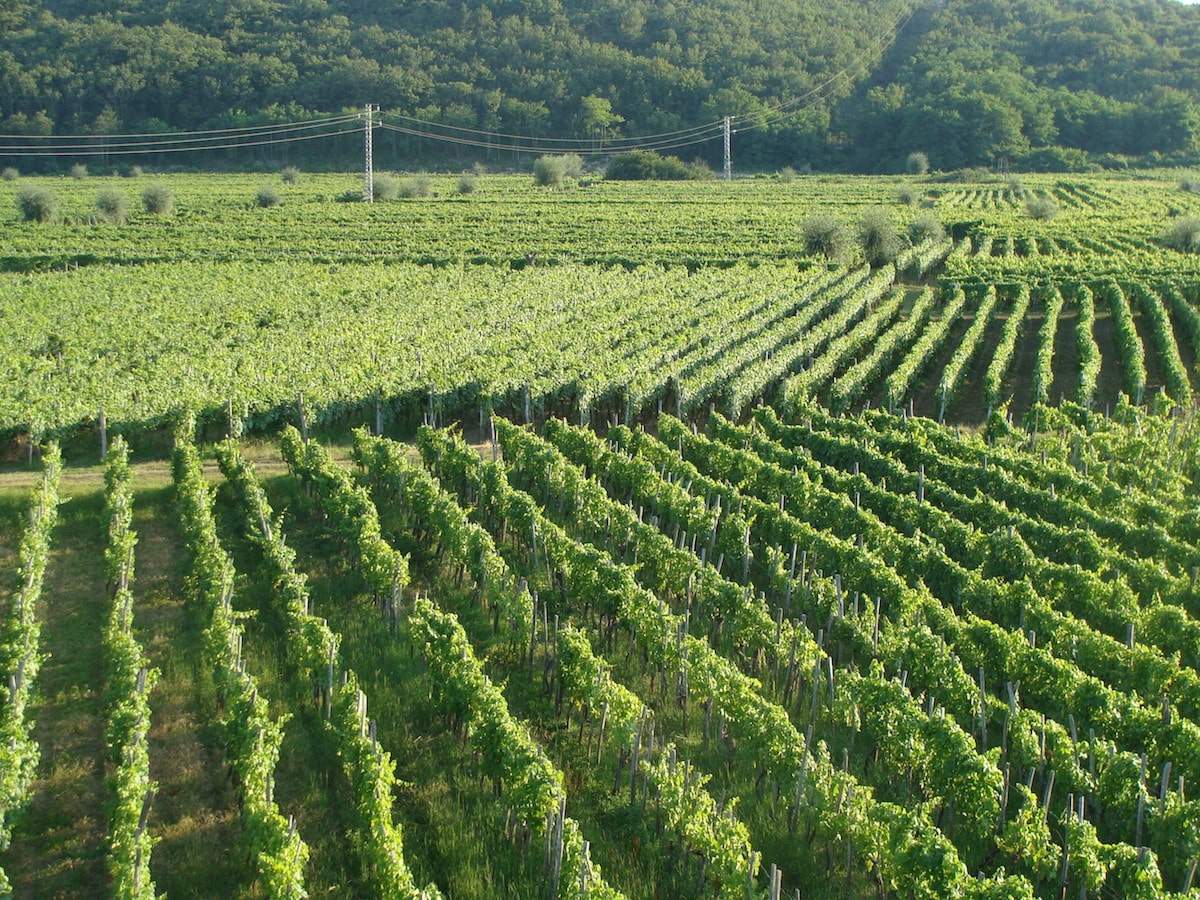 The world's first sparkling wine fermented in the Adriatic Sea
Did you know that the world's first sparkling wine fermented in the sea was lifted out of seawater in Kvarner below the cliffs of Vrbnik? Now that you know that, let us reveal its name – Valomet sparkling wine, made from the grape variety Zlatna Zlahtina. It is unique because it has aged for 400 days at a depth of more than 30 meters. It owes its special aroma to the specific ambience in which it ferments and matures.
Vrbnicka Zlahtina wine is an important part of gastronomic pleasure on the island of Krk
Once you are surrounded by the beautiful atmosphere of Vrbnik, it comes as no surprise that such a special place fully deserves to have its own unique drink, Vrbnicka Zlahtina wine. We can genuinely say that this place, with its delicacies and natural beauty, is the perfect holiday choice for all the senses, especially for great lovers of wining and dining.

To give you an opportunity to get to know Zlahtina wine, we have organized gastro tours and excursions, which include enjoying the fantastic local wines and foods. Vrbnicka Zlahtina wine is best paired with various cheeses, including the famous sheep cheese of Krk island. Therefore, we recommend you treat yourself to one of the gastro tours and excursions, enjoy the flavours of Krk and learn a lot about the island at the same time.

So, you can take a multi-day gastronomic trip around the island of Krk while adjusting the schedule to your own rhythm. What is best of all is that each day brings a new adventure and tasting of Krk delicacies. Taste Krk (Kušaj Krk) is a self-guided tour and a real winner for all gastronomic wanderers. It includes a wine night in Vrbnik on its 3rd day, tasting 9 wines in 3 wineries. You will be hosted by the most famous winemakers from the island of Krk, who will offer you traditional Krk delicacies and Zlahtina. In addition to enjoying every sip, you will be taught all about wines and their characteristics.

The Taste Krk (Kušaj Krk) tour is available from April to October. We strongly advise you not to miss this outstanding wine & dine experience. Suppose you are not very hungry, but you are very thirsty. In that case, we advise you to take one-day short trips so you can book a visit to the winery in the house of wine and enjoy a tasting of 7 Krk wines. There you will be listening to stories about Vrbnik and Zlahtina while sitting on a terrace with an incredible view.
Time to indulge in Vrbnicka Zlahtina Wine
Should you decide to get to know the island of Krk and Vrbnik, there is a selection of first-class private accommodation facilities at your disposal. You can choose from holiday homes to apartments to meet the needs of all our guests and visitors. So invite your loved ones to join you and visit this special place and indulge yourself in the most delicate traditional flavours and aromas. Cheers!