Excursions, experiences & tours:
53 found
Experience the island of Krk in an unforgettable way - book a boat trip to your liking!
Enjoy Krk boat trips and panoramic rides along the beautiful coast of the island of Krk and neighboring islands. Swim on the most beautiful beaches of Krk and in hidden coves that can only be reached by sea. Private rides with taxi boats & sailing boats are also available.
The best selection of boat trips on Krk island
Boat trips Krk are the most popular excursions amongst the visitors of Krk island. That is certainly not surprising. There is no better way to experience such a beautiful island, its stunning coast and surroundings. How else can you reach the best beaches tucked away in distant coves and bays? Why share a beach with thousands of tourists when you can escape to a secluded cove where you can swim alone or visit a remote beach with just a handful of other people?
Private Krk boat tours
If you like privacy and prefer excursions at your own pace, you might want to check out the private taxi boat trip to hidden beaches. If a full-day trip is too long, you can also book a shorter, half-day taxi boat trip. Whichever you choose, you can expect an unforgettable experience.
The taxi boat is very comfortable, accommodates up to 9 people, and has a refrigerator, a toilet, and steps to descend into the sea. You can create the itinerary with our experienced and friendly skipper and depart on an exciting adventure.
Another excellent option for smaller groups is the Panoramic ride with a taxi boat for 6 people. The whole boat is available only for you, along with our experienced and friendly skippers. During this boat ride along the eastern coast of the island of Krk, you will visit 3 beautiful beaches that are reachable only from the seaside.
But besides swimming in the mesmerizing clear blue-green colored sea, you can also enjoy the beautiful nature and impressive cultural heritage during this boat excursion. You will have the opportunity to see the remains of the church of St. George from the 12th century and the remains of the early Christian church of St. Nicholas from the 6th century. Altogether it's a unique opportunity, and an unforgettable experience is guaranteed.
Krk boat trips for families with children
If you are traveling with kids, there is an excellent selection of boat excursions ideal for children. For example, did you know we have mermaids on Krk island? And who doesn't like mermaids? Kids love them, and for an excellent family trip you can take a semi-submarine to visit the underwater park and have a close encounter with a mermaid.
A fascinating underwater world awaits your family in this lovely boat excursion. You will meet shoals of fish and see an attractive underwater park with a dozen underwater sculptures such as treasure chests, rudders, amphorae, and Glagolitic letters. And for your children, the best part will be meeting the sea siren that will dive around the ship, wave and send kisses.
Another Krk boat trip perfect for families with children is the Panoramic Ride on a Glass Bottom Boat. Your children will undoubtedly enjoy this panoramic ride on a glass-bottom boat that starts in the port of Malinska, but you can also board in its next stop in Njivice. This Malinska boat tour will take you in the direction of cape Pelova, where the boat will slow down so you can observe the sea bottom, flora and fauna of this beautiful part of the island's underwater world.
Another great option for families is the Eco panoramic boat ride. During this special boat tour, your family can experience the exceptional biodiversity of the island of Krk and the neighboring islands Plavnik and Kormat. A highlight of the tour is the griffon vulture habitat, where this almost extinct species nests. As a bonus, during this excursion, you can swim on the beautiful beaches accessible only from the sea and in the famous blue cave on the island of Plavnik. Your family will return full of impressions from this fun and educational excursion.
Seawater sports and fun activities
If you like to be active, there are various options for unforgettable experiences. From not so demanding like Sea Kayaking or a Sailboat Excursion, to more intensive ones like Sailing Courses or Scuba Diving.
Sea Kayaking to the Krk Bridge and Islet st. Marko is always a fun activity for the whole family. You will learn all the tricks you need for kayaking, experience unforgettable Krk bridge scenes and enjoy several fun hours on the sea with a professional guide.
A Day Trip on a Sailing Boat allows you to experience the sailing sensation. This boat trip is ideal for families, groups of friends or team building. You will enjoy a whole day of sailing and swimming in hidden coves, accessible only from the sea.
If you enjoy sailing and would like to acquire theoretical knowledge and gain or improve your sailing skills, there are different sailing courses at your disposal. From a Basic Sailing course over 2 days, a longer 4-day Beginners Course, to a 7-day long Intensive Sailing Course. There is also the option of the summer sailing course on Krk on the sailing boats First 18 for three people and the First 25.7 for five people. Whichever you choose, the Adriatic Sea and the archipelago of the northern Adriatic await you.
And finally, for a genuinely different and most exciting experience of Krk island, you might want to try Scuba Diving. We have many wonderful options perfect for beginners with no prior experience in diving. This will give you the opportunity to learn something new and explore the rich underwater world of Krk island and its surroundings.
If you need help choosing the right Krk boat trip that will suit your needs perfectly, feel free to contact us, we're here to help.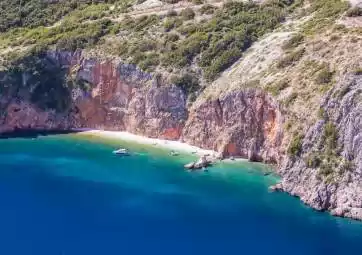 Panoramic taxi boat ride for 6 persons - 3 hours with swimming
Vrbnik
9.8/10 based on 31 reviews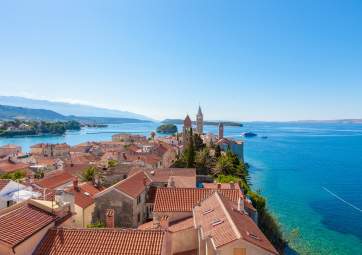 Town of Rab and thousand-year-old olive groves on island of Pag
Krk
9.9/10 based on 7 reviews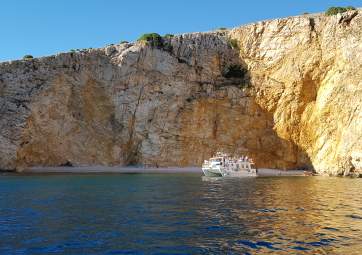 Hidden beaches with swimming at Golden Beach and Blue Cave
Krk
9.7/10 based on 15 reviews
Rab and ex prison islands with swimming on beautiful beaches
Punat
9.8/10 based on 23 reviews