In our vast selection, you can choose from a variety of Krk island accommodations, and we can offer you an especially large selection of private accommodations.
Whether you are planning a family vacation, a romantic getaway or an active holiday, the island of Krk is an excellent choice. One of the most important aspects of each holiday is to find the right accommodation that perfectly suits your every need.
Although you will spend most of your time on the beach, sightseeing or engaging in numerous outdoor activities, you still need a comfortable apartment or holiday home to relax and have a good night's sleep.
We can help you select and book a perfect apartment, private room or holiday home that will serve as an ideal base of operations for an unforgettable holiday.
Our guests can choose between apartments of different categories and equipment. There are holiday homes - villas with swimming pools or romantic houses in the old town centres- offering a unique atmosphere and modern comfort.
Krk island accommodation in rural areas, city center or with a sea view?
If you prefer peace and quiet, maybe you would like to opt for an apartment or holiday house in rural areas. These types of accommodation often have a very pleasant garden, ideal for relaxation, while the beaches and larger villages on the Island are really close at hand. Rooms in private accommodation are mainly chosen for shorter stays, you can choose between basic rooms at a very affordable price and excellent equipped, luxurious rooms with breakfast included.
On the other hand, you might wish to opt for authentic historical accommodation in the centres of old towns. If you want to fully enjoy the charm and the spirit of the island of Krk and the Mediterranean island life of old times, this is a great option for you. The Heritage accommodation in our vast selection has many outstanding options. Each of these apartments and holiday homes has its own history and Mediterranean atmosphere, but with all the modern conveniences.
For many of our guests, the most important feature in Krk accommodation is an open, unobstructed sea view. Many state that enjoying a view of the deep blue waters of the Adriatic Sea from their private apartment or villa are some of the best moments of their holiday. One of the great advantages of staying on an island is that we have a great selection of different accommodation with stunning sea view. It doesn't matter whether you prefer an apartment or a holiday home, there are plenty of options to choose from.
What about the amenities in accommodation on Krk?
In the description of each accommodation, you can find details about the total area of accommodation as well as about surfaces of the terrace or balcony and all the details related to their equipment. The vast majority are decorated in accordance with modern standards.
Although their decoration style varies from modern to traditional, most of the accommodations in our selection have all the modern amenities. Free Wi-Fi internet is standard in the majority of the accommodation in our selection. This allows you (and especially your children) to have a strong connection to the online world even on your vacation. We all know how important is to be able to watch movies, videos and shows online. But it is entirely up to you if you want to avoid the internet and relax. It's good to have options, and free Wi-Fi is certainly very important.
Air conditioning is also a standard in most of the accommodations on our selection. Do not worry about heat waves and hot weather, because you can relax in your accommodation and cool down inside. Kitchens are usually fully stocked with kitchen utensils, cutlery, pots, etc. You can expect a microwave and regular oven, toaster, electric kettle, refrigerator with freezer, and a filter coffee machine. Cable TV with channels in different languages is also a standard.
All the information is regularly updated, photos are also current so that from the comfort of your home you can choose your perfect accommodation on the Island of Krk.
Choose from an excellent selection of Krk apartments
The total offer of rental apartments on the island of Krk is so enormous, that it would be nearly impossible to choose between all of them. But, do not worry, thanks to our detailed knowledge of every corner of our golden island, of the rental owners and of all user experiences and preferences that we were able to collect in the past 20 years, we assembled the best selection of rental apartments, and at the most convenient prices on the market, as well.
In our selection you may find just the perfect apartment that will satisfy all your needs and expectations. After all, during your holiday you need all the comforts of your home, but also so much more. Like an enchanting sea view, a lovely terrace to enjoy outdoor living or maybe a balcony over a busy old town alley. This way you can soak up the invigorating small-town Mediterranean atmosphere while enjoying your morning coffee or an evening cocktail. ;)
We made sure that our selection covers all styles of apartments on the island of Krk. If you, for example, prefer modern decor, it will not be difficult to find the right one for you. If you prefer traditional apartments in old, charming and beautifully restored stone houses, our offer is just as rich. For those that are always looking for something new and different, we have very interesting apartments that boast an eclectic or even a retro style.
Looking for a Krk holiday home or a villa?
Many of our guests prefer the privacy, exclusivity and comfort of holiday homes & villas on the island of Krk, with the entire facility at their disposal. Our offer has luxury villas with pool or without it, with a sea view or in the hinterland. Each of these rental homes will provide you a unique and unforgettable holiday experience on the Island of Krk. In this section, you can also find highlighted some apartments where you have the whole house for sole use & some apartments that are located in villas with pool.
Booking one of the attractive Krk villas and holiday homes in our selection will give you your own, private piece of heaven on Earth. You will be able to relax, fully recharge your batteries and enjoy the peace and quiet in your home away from home.
Find and book your ideal Krk accommodation with Mare Tours
Arrival and departure days for most of the apartments, holiday homes and private rooms are flexible so that you can maximally adjust your vacation on the Island of Krk to your plans. Your stay in private accommodation on Krk island, in apartments and holiday homes on the Island of Krk allows you to relax and live in accordance with your rhythm and habits while enjoying the privacy and family atmosphere of private accommodation.
In addition, our prices of apartments and holiday homes on the island of Krk are very competitive, and we are proud that in direct cooperation with our holiday homeowners, we can offer you the best prices on the market as well as our professional service during the booking process and during your stay on the Island of Krk.
For further savings, we also have great special offers prepared for you: Book 7 - Pay 6 and Last minute offers. These offers allow you to book great apartments, private rooms and holiday homes at very affordable prices.
What ever type of accommodation you prefer and need, the island of Krk has it all. From quaint private rooms, to modern apartments and luxurious holiday homes with swimming pools and lush gardens. Explore our great selection by yourself or reach out and give us a call or send us a message and we will assist you in your search and help you find the right one for you.
Romano 1 - bright apartment in quiet location, with sea view
Vrbnik
8.8/10 based on 6 reviews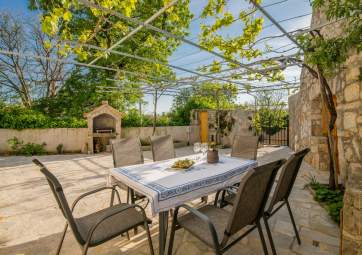 House Dume - with a large yard, at the forests edge
Kornić
9.6/10 based on 2 reviews
Lavanda - modern apartment with partial sea view
Vrbnik
9.1/10 based on 5 reviews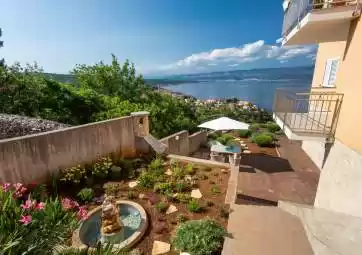 Mema - cozy studio with unforgettable sea view
Vrbnik
9.8/10 based on 8 reviews