Not so long ago, the sound of a camera "clicking "or even a sight of a person with a photo camera was a clear sign of tourists arriving at our destinations. Photographs as forms of memories were always held as something precious. We all capture all our adventures and experiences in that way. This is something that remains the same to this day. Thanks to technological developments, the advancement of smartphones, and social media, photography became available to everyone. It enables anyone to create the story of a location through their own eyes and view.
Today, many people search for ideal Instagram locations, whether a popular 'selfie' or simply a beautiful panoramic nature or landscape view, which leaves one breathless and amazed. A picture does say more than 1000 words. There is no better feeling than flipping through your photographs and immediately flying away to the cherished memory. Social networks immensely affect our everyday lives, having a significant role in our private and business lives. So we often say, "if it is not online, it did not happen. "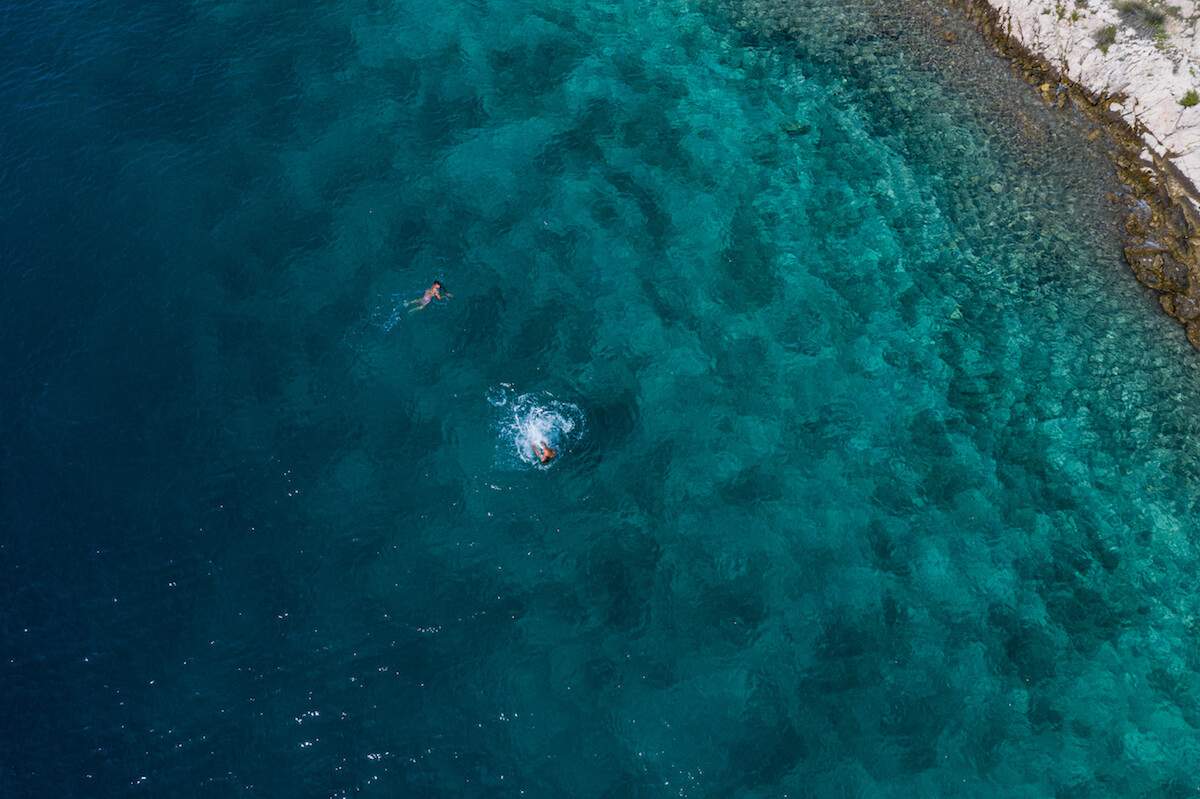 Thanks to its natural beauty, attractions, landmarks, rich history, and tradition, the island of Krk seems like one giant postcard and it's full of locations for instagram. This article will present some beautiful places and great Instagram locations, especially those with amazing views not lacking on Krk. So, if you are wondering: "what are instagrammable places near me?", read on. Take your smartphone or camera and follow our advice for creating a perfect photograph. Play with the lighting, shadows, and compositions – practice makes perfect!
Here is our list of best locations for Instagram. Let's dive in.
Vrbnik above the sea
The old town of Vrbnik is a great location for Instagram spots. Vrbnik is a picturesque town rising from the sea on the eastern part of the island of Krk. Vrbnik is a captivating sight from any corner. When exploring Vrbnik and its hidden beauty, you will feel its Mediterranean charm with every step. You will find perfect shots for your Instagram profile while walking through the historic city center and its medieval stone-paved streets filled with various interesting details.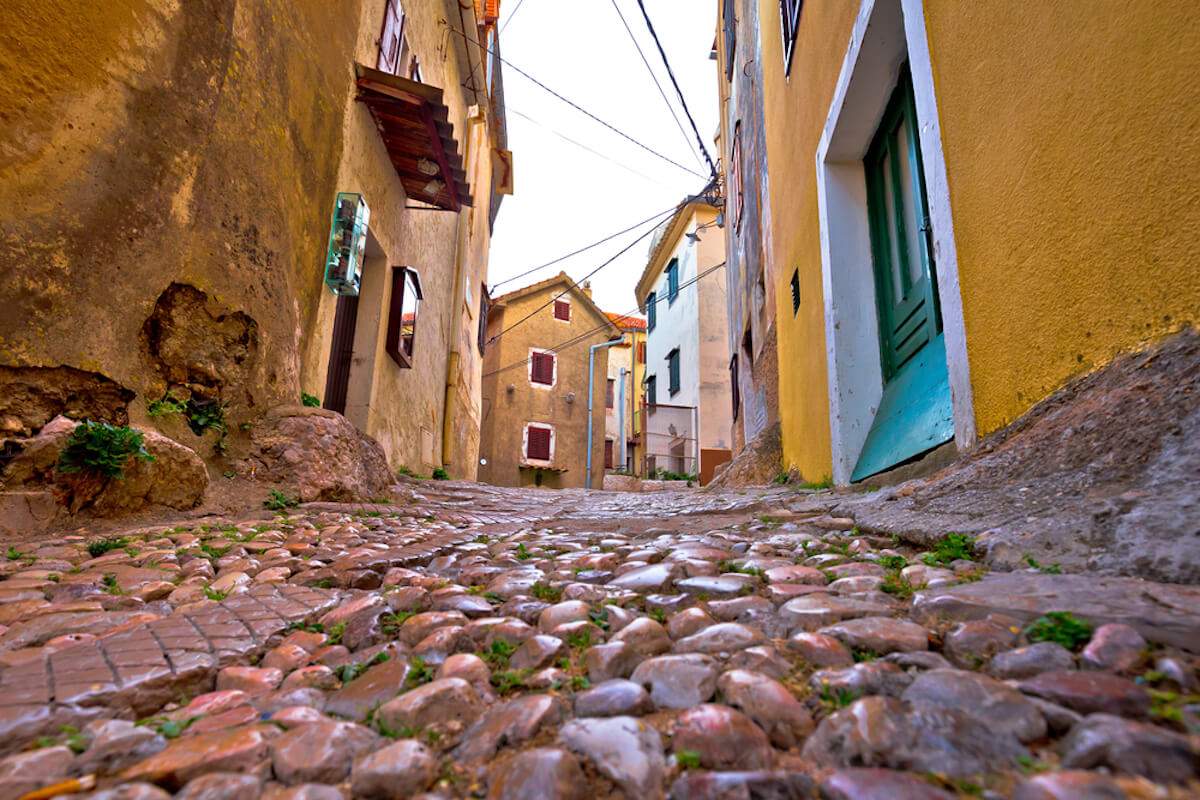 The narrowest street in the world
There is a special street in this labyrinth of narrow and winding stone-paved streets of Vrbnik because only some can pass through it. That is Klančić, one of the narrowest streets in the world, only 40 cm wide. So if you are one of the lucky ones who manage to pass through it, do not forget to capture that moment. The narrowest street in Vrbnik is an Instagram spot and a moment to record.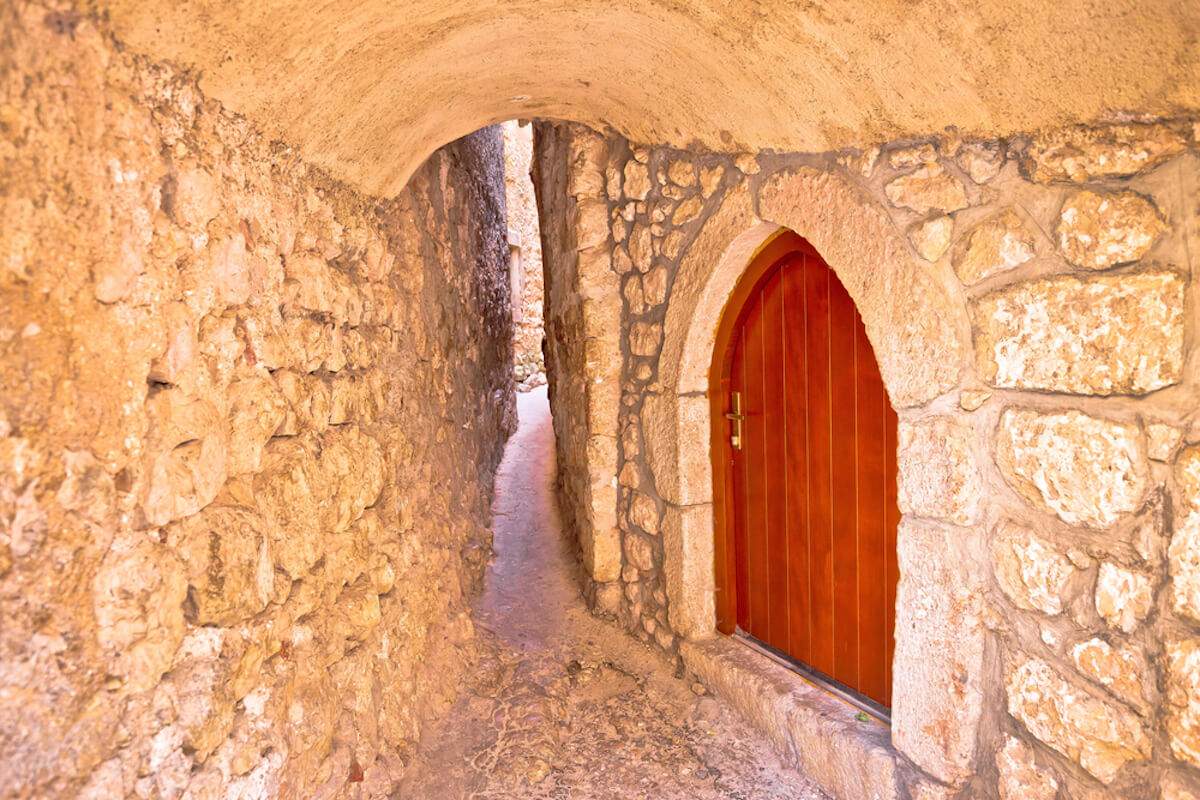 Soline Bay
This is another exciting Instagram location that calls for a selfie or, even better, a cool "muddy" photo with your family or friends. The photo of Soline Bay will surely earn you many "likes." One of the most visited beaches during the summer months, Meline beach, is located in Soline Bay. It is unique because of its healing mud, whose beneficial properties helped many, especially those suffering from rheumatic pains. So visit Soline Bay, take a couple of crazy Insta photos and, at the same time, do something good for your health.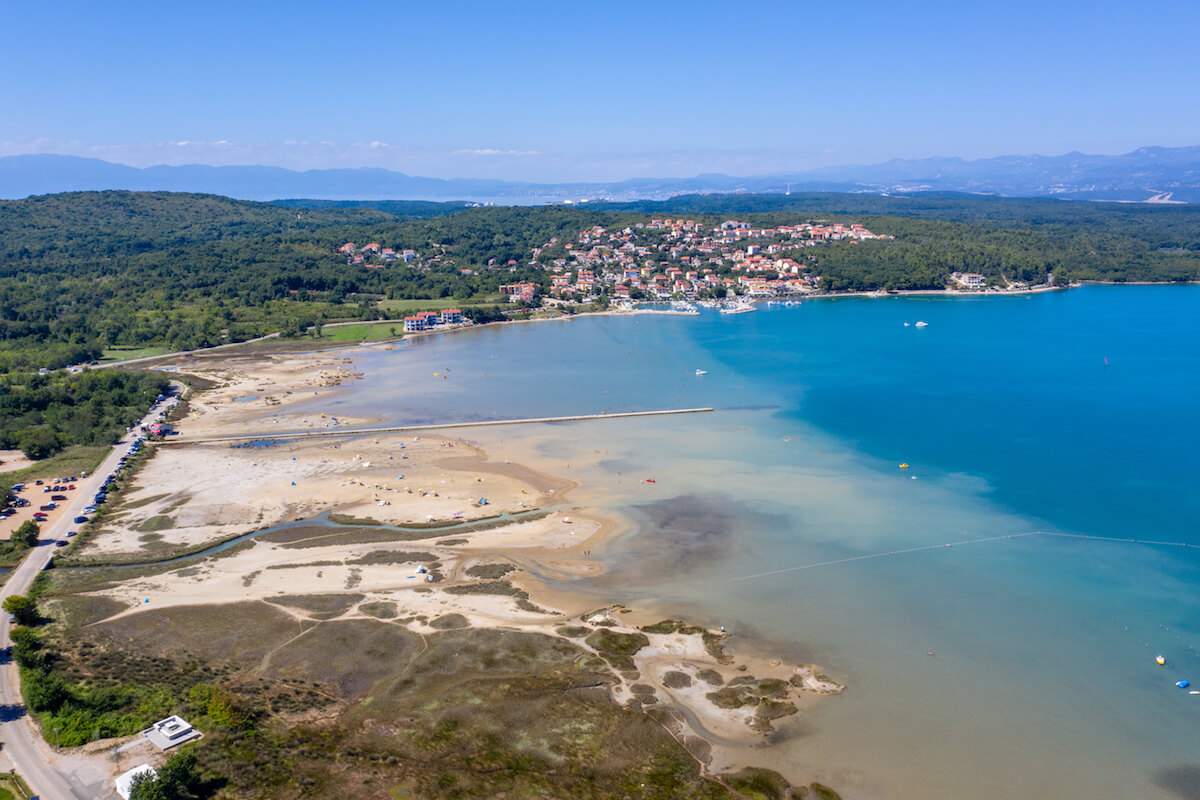 View from peak Veli Vrh is a perfect Instagram location
One of the most famous viewpoints on the island of Krk is Veli vrh, a peak situated 541 m above sea level. The view from the top is breathtaking and unforgettable, stretching to the entire Punat Bay, the tiny island of Košljun, the town of Baška, and the rest of Krk island. If the weather works in your favor, your photos taken from Veli Vrh could become a social media hit.
Beach Vela plaža in beautiful Baška
One of the most popular beaches on the island, called Vela plaža in the town of Baška, is magnificent in its length and width. Besides being one of the prettiest, this 2 km long sandy-pebble beach is also one of the longest. So your shot of this Instagram location simply needs to contain the changing shades of a crystal clear turquoise sea, the beautiful cliffs of Velebit mountain, and the view of islet Prvić.
Beach Oprna near Stara Baška
We remain in the beautiful and diverse southern part of the island of Krk. Many islanders will agree that beach Oprna is one of the prettiest beaches on the island of Krk, even in the whole of Croatia. This sandy-pebbled beach is located in a bay near the small town of Stara Baška. Even though the paths leading to beach Oprna are narrow and steep, it is worth visiting. Make sure your camera batteries are full, memory cards still have free space, and start taking photos. There are countless exquisite sights, whether you are coming by sea or land.
You can find many unique Instagram locations on different hidden beaches of the island of Krk and the surrounding islands, which you can only reach by boat. There is always an option of a private taxi boat trip or group boat trips.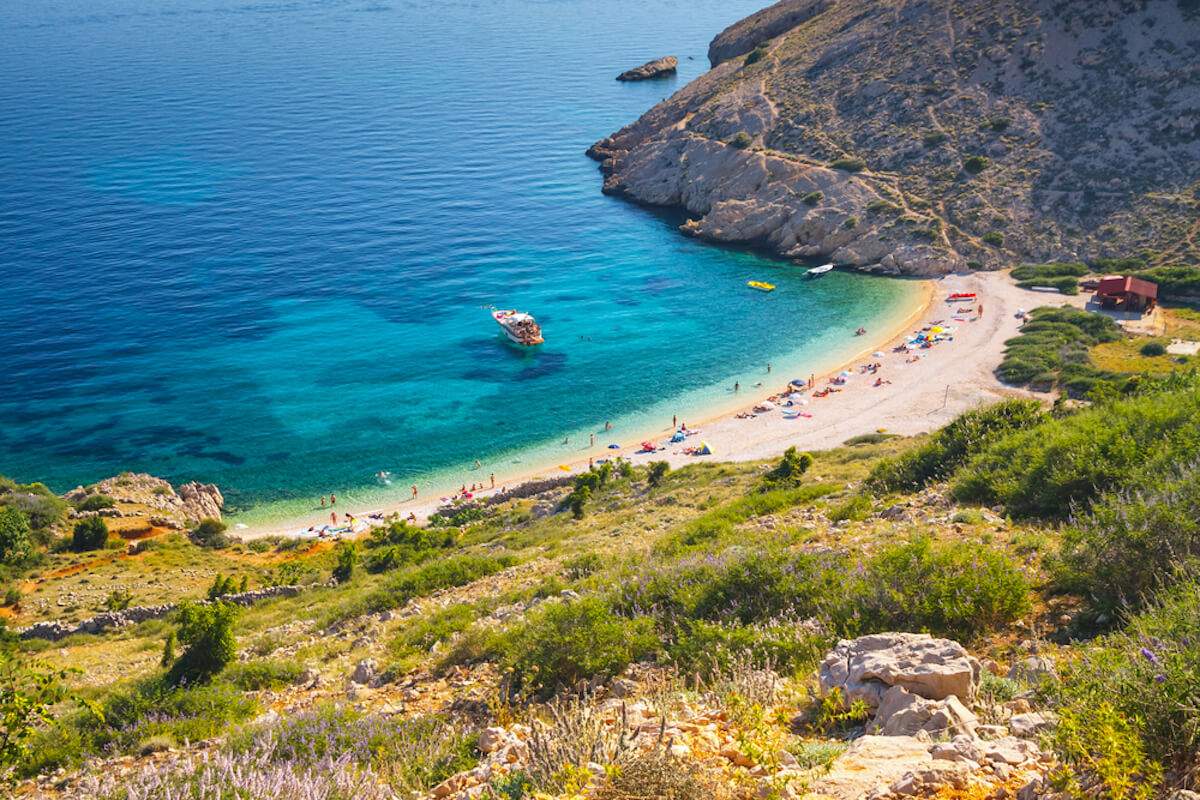 Instagram locations along the Moon's path in Baška
Moon's path, a favorite among the promenades of the island, leads to the Moon Plateau, a unique site in Croatia and beyond. Suppose you have a great desire to visit the Moon, but you, like most, are hindered by financial possibilities. In that case, we recommend visiting this beautiful alternative.
A visit to the Moon Plateau will be a perfect outdoor activity that will, at the same time, give you the feeling of visiting another planet, even just for a moment. Along the path, you will have the opportunity to record the magical landscape of Baška and the surrounding islands. When you reach the Moon Plateau, you will enter a different world and realize the magnificent forces of nature. We do not doubt that your photos of this Instagram location will be phenomenal and provoke online envy. Most importantly, the photos of the Moon Plateau will give you the memory of being a "Man on the Moon."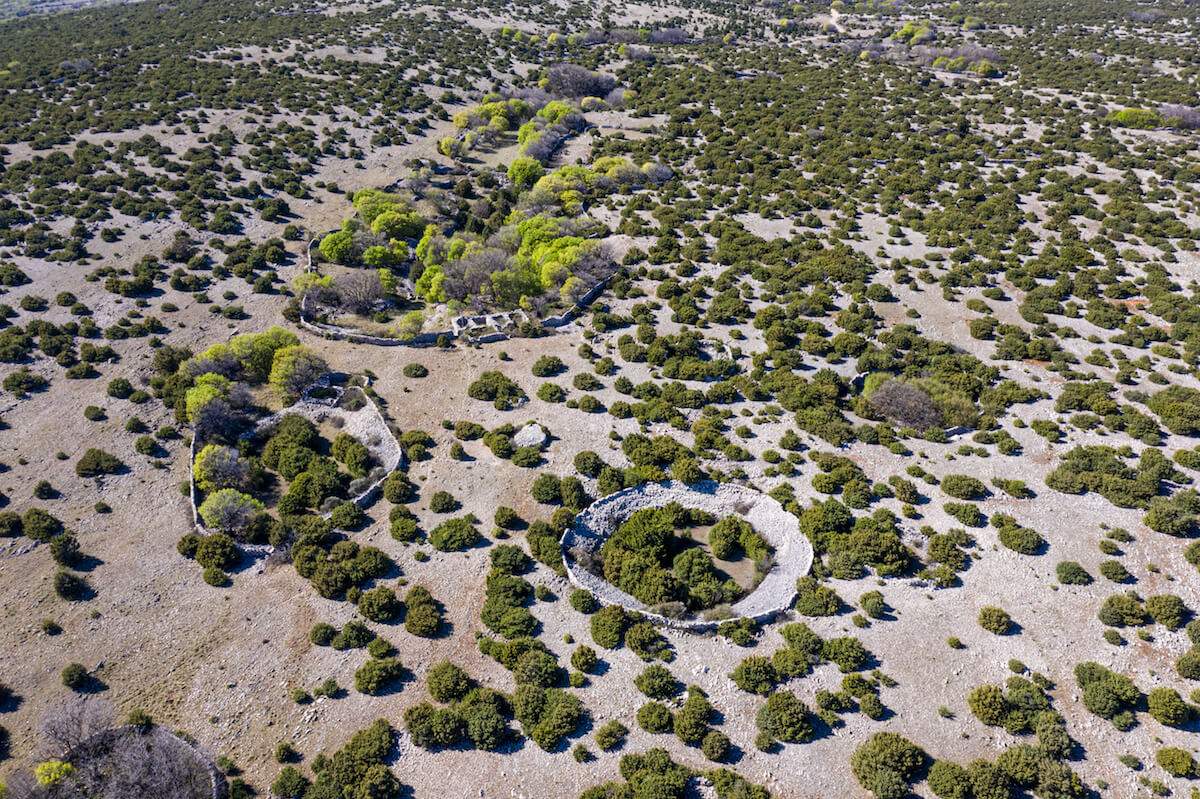 Košljun island
The small island of Košljun, located in Punat bay and reachable only by boat, is becoming increasingly popular among tourists and it's another great Instagram spot. The rich cultural heritage, the unique atmosphere, and the striking synergy of man and nature are just some of the reasons for its popularity. The whole island resembles a museum, and all the earnings from ticket sales go to the monks who reside on Košljun.
Aside from the magnificent 15th-century Franciscan monastery, the rest of the island is covered with rich forest, a perfect place for a peaceful walk, meditation, and exploration. On Košljun, you will find 485 different plant species and 150 species of mushrooms. Enjoy the amazing scents of aromatic plants and the sound of birds chirping. We advise that you charge your battery, empty the memory card and start photographing. At first, the synergy between man and nature might not be visible to some. Still, you will definitely feel and experience it.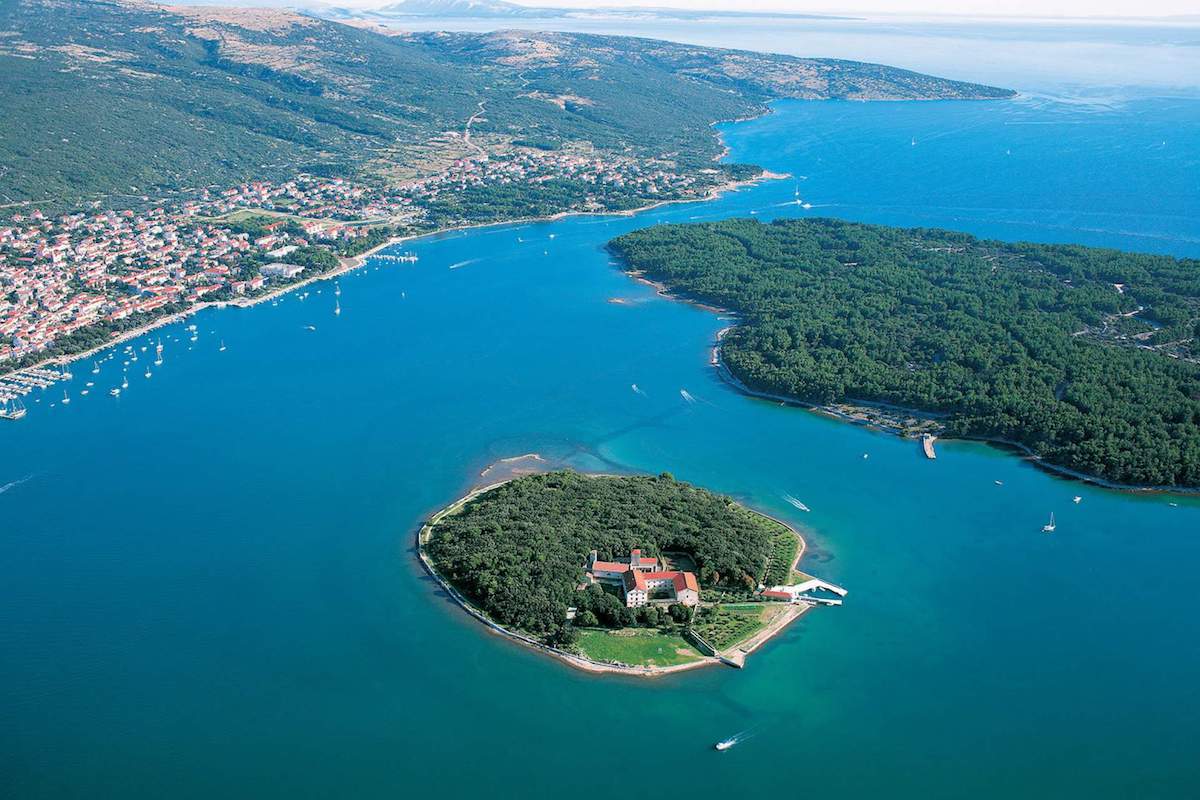 Mirine – Fulfinum
Are you a history fan and often dedicate your social media feeds to researching and learning about history? Then you should expand your photography collection with scenes of a 5th-century early Christian basilica. Right by the sea in Sepen Bay near Omišalj still, stand the remains of the ancient Roman city Fulfinum Mirine with a longitudinal basilica in the shape of a Latin cross. This basilica is a great Instagram location and interestingly, it's the only sacral building of this kind on the island of Krk and the largest in the Mediterranean. The ancient Roman town of Fulfinum is still largely unexplored and unexcavated. Maybe you are the one who will discover something new and photograph the evidence!?
Historic city centers hide many Instagram locations
The historic city centers of Krk, Vrbnik, Omišalj, Baška, and Dobrinj…offer countless Instagram locations perfect for photographing. Their narrow cobbled streets are full of history and sights dating back to olden times or somewhat more modern history.
Clustered stone houses typical for Mediterranean architecture, small museums, galleries, souvenir shops - everything looks like you are in a picture book. The historic city centers are especially vivid and picturesque during the summer when these small streets come back to life and become the setting for many exciting events. We hope that these scenes will evoke a feeling of warmth, love, and respect for past times.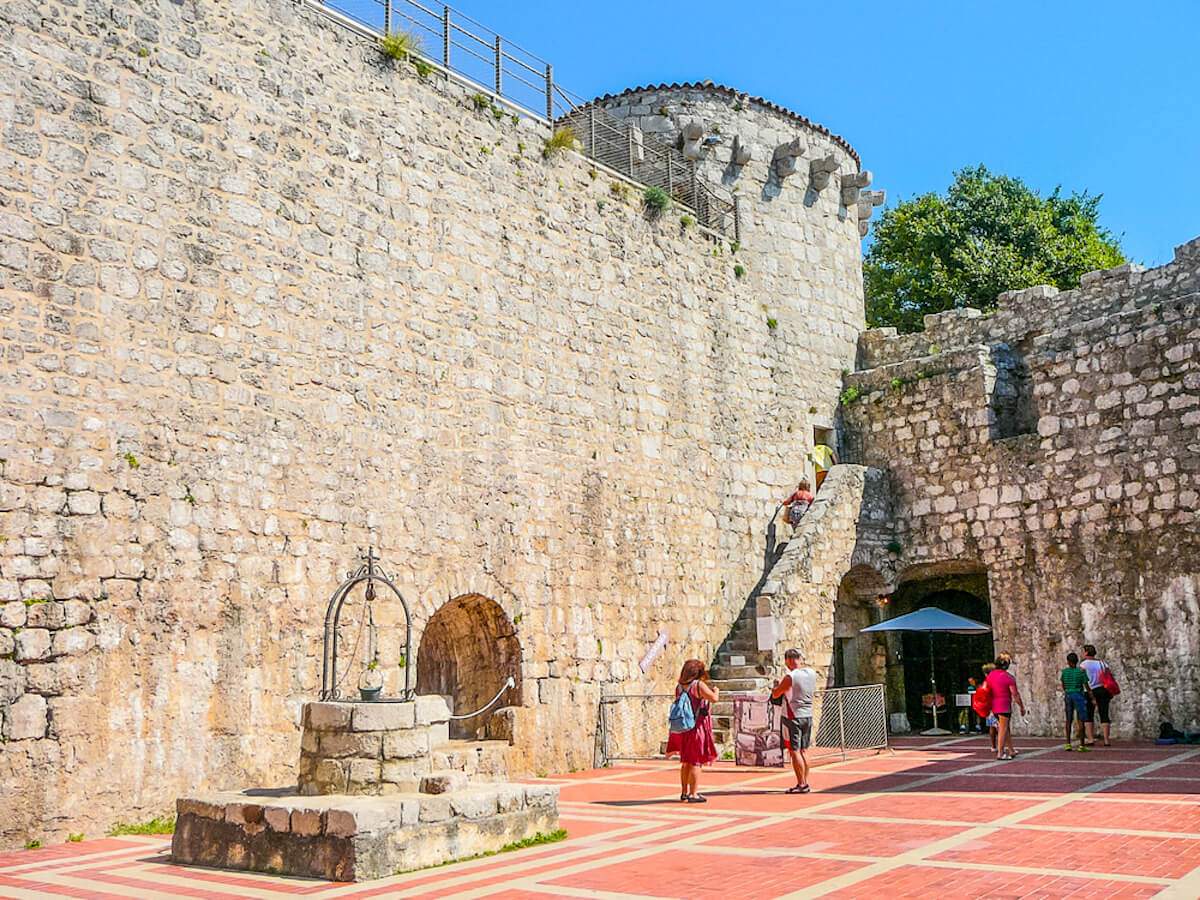 Vineyards
Explore locations of an everlasting tradition of winemaking on the island of Krk – Vrbnik vineyards, a true vineyard gem. Wander off in a labyrinth of grapevines covering over 100 hectares of surface. We invite you to learn something new about our tradition and wine production and taste some of the fantastic wines made by well-known winemakers from the island of Krk. Of course, it is not easy to translate the exquisite flavors you taste into photography. Still, you can record the pleased expression on your face and tell the Instagram story of your memorable experience, which will surely be unique and delicious!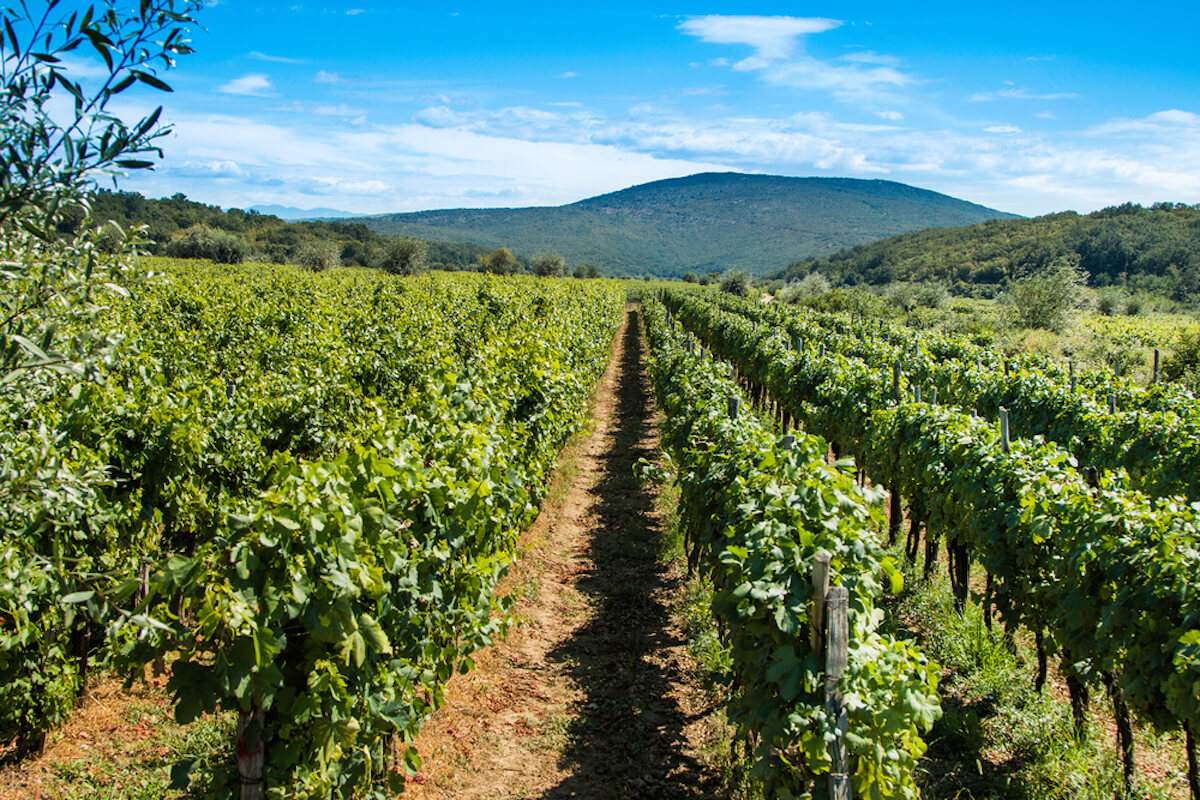 A stroll by the sea
An indispensable part of any album must belong to photos from sea promenades. Most towns on the island of Krk have their walk by the sea, which connects the city center with its immediate surroundings. We can guarantee some magical, picturesque seascapes and ideal Krk Instagram locations.
Sunset
Treat yourself to a selfie or a panoramic photo of an unforgettable sunset. These island sunsets in shades of orange and yellow do not need any "filters." You will see for yourself if you ever visit or plan your vacation on the island of Krk. The island is full of beautiful pebble and sandy beaches and mysterious hidden and less hidden coves. It is up to you to choose the beach to your liking and enjoy the stunning views of the departing sun. A private boat ride at sunset is also a special experience. Whether you are a romantic soul, do not miss out on such experiences and memories and some great photos.

Wherever you go on the island of Krk, you will find inspiration for your visual creativity everywhere. So much culture, tradition, history, and beauty in one place can not go unnoticed. Suppose you are planning to visit the island of Krk. In that case, we guarantee that you will take some great and exciting photos, but more importantly, make a handful of fantastic and unforgettable memories.