Here you will find villas and holiday homes on Krk. In this selection, we have also included some apartments in which you have the whole house for sole use, as well as apartments located in villas with a pool.
Our guests gladly choose the privacy, amenities and comfort of holiday homes & villas Krk, where the entire facility is at your disposal. Booking one of the beautiful Krk villas in our selection will provide you with an unforgettable holiday experience. For the duration of your vacation, you will have your own private piece of heaven on Earth. You can relax, charge your batteries and enjoy the peace and quiet in your home away from home.
Excellent selection of private villas on Krk island
We offer an excellent selection of different Krk island villas and you can choose just the right holiday home on Krk that suites all your needs and desires. Whether you like the quiet country feel of the inland rural areas or you prefer the astonishing sea view that is offered by Vrbnik villas, we have it all. Privacy is guaranteed, whatever location and property you choose.
Nature lovers can choose from various Krk island holiday homes located in charming villages. These properties offer a calming holiday experience, away from the rush and big crowds, but still close enough to main towns and lovely beaches. You will be surrounded by nature and lush Mediterranean vegetation, and the silence will be interrupted only by birds singing. Still, if and when you feel like it, you can easily and quickly embark on various adventures, exploration of the main island attractions or secluded beaches.
Most Krk island villas and holiday homes in our selection that are located in rural areas have bigger plots. That means they offer larger outdoor areas and landscaped gardens. If you travel with children, a pet, or you simply enjoy outdoor living, this might be just the right option for your needs. You can get into some fun outdoor activity with a ball, a frisbee, or fly a kite, with plenty of space to run around. Or maybe you can even try gardening? After all, nurturing and watering plants and summer flowers really has a relaxing effect on many people.
Vrbnik villas and holiday homes
On the other hand, if you like a more active holiday style, you might prefer to be close to all the hustle and bustle offered by larger, coastal towns like Vrbnik, Malinska, Krk, and others. It can be very convenient to simply step outside of your private Krk villa and be smack in the center of all the fun and excitement. This way you're close to all the coffee shops, bars and clubs which is essential if you like to party, or you're traveling with teenagers. Or you simply like to be close to different events, concerts and exhibitions.
Vrbnik villas in our selection, for example, offer the experience of living in an old Mediterranean town. You would be immersed in history, culture and heritage. But at the same time, most of these holiday homes have impressive sea views and are quite close to the beach, so you don't have to sacrifice anything.
Since we are always honest and sincere with our guests, we have to point out that there can be one potential downside to some of these properties located in the old town of Vrbnik, and that is the lack of parking next to the house. In some cases you may need to walk for a couple of hundred meters from your car. But that usually is not a problem for most people as it is a lovely walk in the center of Vrbnik among the beautiful stone houses and buildings.
Krk luxury villas with pool
And if you prefer to have your own private swimming pool, we have a great selection of Krk luxury villas and holiday homes that will provide everything you may need from a holiday rental. The holiday houses in our offer have all the modern amenities, like air conditioning, wi-fi internet, large flat-screen satellite TV, dishwasher, microwave and regular ovens, washing machine, electric cooker, kitchen utensils, etc.
Most of Krk villas and holiday homes also have a covered terrace area so you can relax and eat outside, protected from the sun while enjoying outdoor living. Every day you can barbecue fresh fish caught in the surrounding Kvarner bay that you can buy on the market or excellent, juicy meat from the local butcher. Or you can choose to be pampered all the way and dine in one of many great restaurants around the island. After all, it's your vacation and it's time to indulge yourself, right?
You feel that all that is great but you still want something extra? No problem, we can offer you astonishing 5 star Krk luxury villas with a pool and in the best locations. These exclusive properties give you everything you may need from your accommodation during your holiday. From breathtaking outdoor areas with a pool, open sea view or even a tennis court, to perfectly decorated indoor areas that offer maximum comfort, these luxury villas on Krk will make your stay unforgettable.
Seafront holiday homes on Krk
Some people prefer that there is nothing between their private terrace and the deep blue waters of the Adriatic Sea. If you are one of them and you want to have an unobstructed sea view from your holiday house on Krk, that is not a problem for us. As a matter of fact, we have several fantastic seafront villas on Krk that you can choose from. They are all lovely, comfortable and unique, and they all have one thing in common, and that is, of course, a killer view. ;)
Pet friendly villas on Krk
If you're travelling with a pet, don't worry, we have many pet friendly villas in Krk. Each year more and more home owners allow pets in their accommodation. So you can bring your whole family, furry members included, and still have a good selection of holiday homes and villas to choose from. After all, a family holiday experience is not complete if our four-legged friends are not with us.
If you need help with the booking process or the selection of a perfect holiday home, call us, send us a message or an email and will be happy to help you.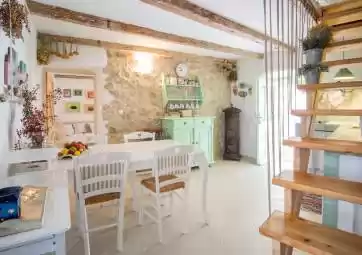 Luce - lovingly furnished cozy stone house
Vrbnik
9.1/10 based on 10 reviews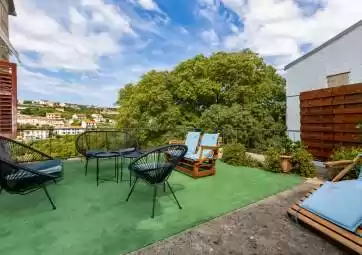 Doris - idyllic location in the old town, with sea view
Vrbnik
9.2/10 based on 8 reviews
Draga 2 - in excellent position, with garden
Vrbnik
9.4/10 based on 8 reviews
Draga 1 - close to the beach in a quiet street
Vrbnik
8.9/10 based on 2 reviews
Maxo - newly renovated holiday home in a picturesque old town
Vrbnik
9.2/10 based on 4 reviews