If you like to travel with your furry family member, the Croatian island of Krk is the perfect choice for your next vacation with a dog. The island of Krk is a dog-friendly destination and just the right place for you and your dog to indulge in this little piece of heaven right here on earth.
Let's give you some tips on where and how you and your dog can spend a holiday together on the island of Krk. Here's what you need to know so that both you and your furry friend can enjoy your vacation to the fullest:
Is the island of Krk a dog-friendly place?
Compared to the past, Croatia and the island of Krk have made significant progress when it comes to the acceptance of dogs and other pets at various facilities. As a result, as witnessed by many, Croatia is today one of the best holiday destinations for a vacation with a dog.
You will notice that people on the island of Krk are very dog-friendly, sometimes even in the least expected places. Many of our guests, who are going on vacation with their dog, said that the island of Krk is a place where they felt the best. As a result, many keep coming back because the island gives them and their pets the opportunity to enjoy the holiday to the fullest.
What should be taken care of before your vacation with a dog in Croatia?
Dogs, cats and parrots must have a valid Pet Passport and animal Health Certificate.
A 15-digit pet microchip that complies with ISO 11784/11785 is mandatory.

It is also important that the pets are vaccinated against rabies. If you come to Croatia from a country without rabies or where rabies is under control, the pet must receive the primary vaccination (first after microchipping) against rabies no later than 21 days before entering Croatia. This deadline is not of importance if the pet undergoes revaccination.
In addition, when traveling, it is important to provide your pet with enough water. Take a break occasionally, let your dog stretch his legs and do its business, and make sure that the temperature in the car is comfortable. Finally, a pet shouldn't eat too much before the trip to avoid motion sickness.
It is important to note that the island of Krk has an excellent veterinary clinic in the city of Krk. In addition, there is a pet store within the clinic with a large selection of food, toys, cosmetics, and other pet supplies.
Which accommodation to choose for a holiday with a dog on the island of Krk?
Don't worry; there are plenty of options that the island of Krk offers when it comes to pet-friendly accommodation. Whether you want to stay in an apartment, a holiday home, a hotel or a boarding house, there is a generous offer to choose from.
Please note that all pet-friendly accommodations on the island of Krk charge a symbolic daily fee for pet accommodation. Depending on the accommodation, the fee ranges from 7 to 15 Euro.
According to the numerous positive comments of satisfied guests, we can recommend the following accommodation options depending on accommodation type:
Pet-friendly holiday homes
Holiday home Grubić – Pet-friendly holiday home with a pool and a large garden, located not far from Vrbnik, suitable for eight people
Holiday home Pinia – Pet-friendly holiday home with a pool and a panoramic view of the sea and Vrbnik, suitable for 6 + 2 people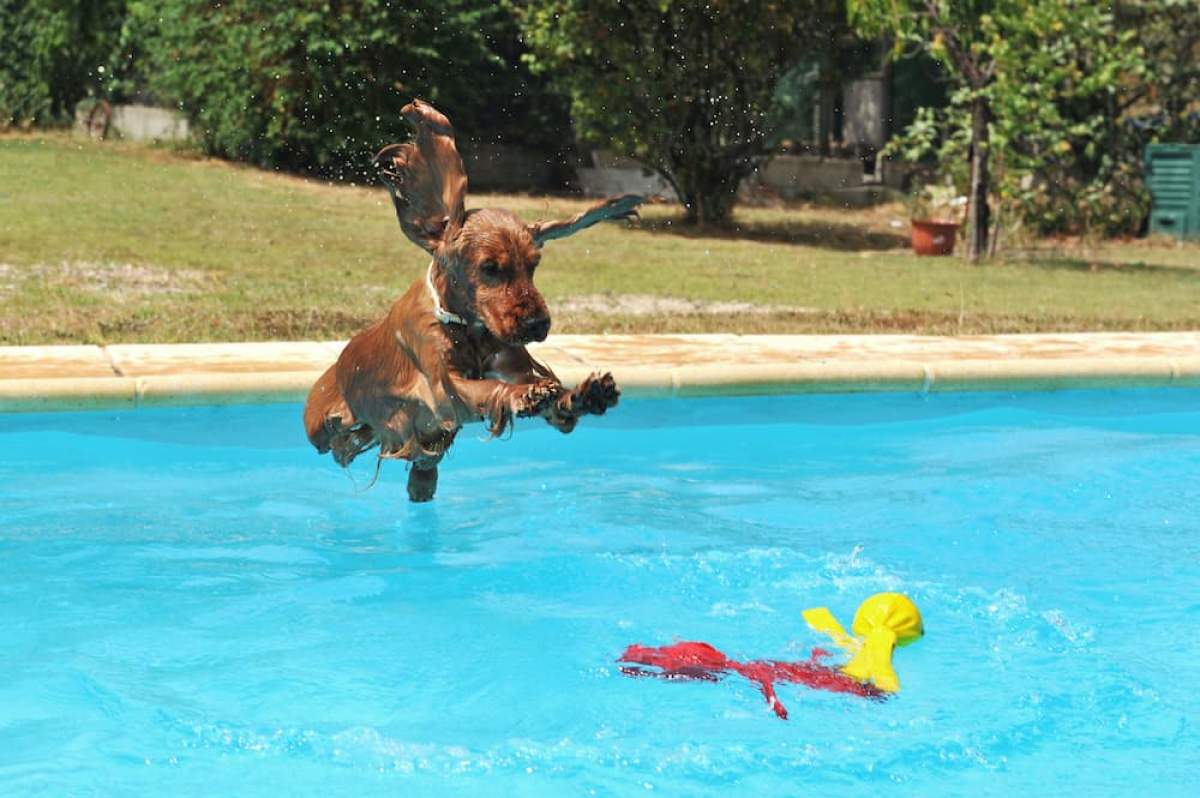 Pet-friendly apartments
Balara – a pet-friendly apartment with a large terrace and a panoramic sea view, located on the ground floor at a quiet location surrounded by nature
Saša – a pet-friendly apartment with a pool and a panoramic sea view in a quiet location
For more pet-friendly accommodation on the island of Krk click HERE.
What to expect on the streets of the island of Krk?
Most inhabitants of the island of Krk are very dog-friendly. When you meet them on the streets, they will probably want to pet your dog, ask you their name and breed, or even offer them a snack or take a photo with them.
Nevertheless, we recommend that you keep your four-legged friend on a leash on the street, primarily for their safety.
Are there any dog-friendly restaurants and shops on the island of Krk?
In the vast majority of cases, taking your dog to a restaurant on the island of Krk is no problem at all. When making a reservation or entering a restaurant, just ask if it is okay for your dog to join you. Many dog-friendly restaurants already have a prominent dog-friendly sign at the entrance and will make sure your dog is comfortable and feels welcome.
As for the shops, the situation is slightly different because dogs are not allowed in most of them. Still, it sometimes depends on the store staff, so it's not out of place to ask. Food stores, such as bakeries and markets, do not allow dogs to enter, as is common in most other countries.
Are there any dog-friendly beaches on the island of Krk?
There are, of course! There are numerous beaches on the island of Krk where dogs are welcome and which are meant for them. If you choose one of these dog beaches, you will not have to worry about other beach visitors being bothered by your dog and whether you dog gets everybody and everything around them wet when getting in and out of the sea.
The only thing that matters is that your dog is well-mannered, that he gets along well with other dogs and that you always clean up after the dog does its business. In addition, avoid too much sun to prevent your dog from getting sunburnt. Also, provide enough fresh water to prevent dehydration and to drink the sea.
What are the best dog beaches on the island of Krk?
Mala krasa Punat – a pebble dog beach situated about 500 m from the Debij beach

Vela plaža Baška – at the end of this famous sandy beach, a section is reserved for dogs.

Kijac Njivice – a pebble dog beach surrounded with pine forest, not far from the main beach Kijac

Mala javna Vrbnik – a small, secluded pebble dog beach not far from the center of Vrbnik

Redagara Krk – a pebble dog beach not far from the main beach of the city of Krk
There are several more dog-friendly beaches on the island of Krk in Dobrinj, Malinska, Čižići and Šilo. If, on the other hand, you want to take your dog to remote and secluded beaches and coves (where there are no signs that dogs are not allowed), it is enough to ask other beach visitors (if any) if they mind a dog on the beach.
What activities are available during the holiday with a dog on the island of Krk?
Apart from swimming in the sea, there are many other activities at your disposal if you do not want to separate yourself from your furry pet while on vacation. Your four-legged companion is welcome on numerous boat trips, which will take you to the hidden coves of the island of Krk and the surrounding islands to enjoy swimming in the crystal-clear sea.
However, you should announce the arrival of the dog in advance and check availability. Namely, depending on the time of year and season, dogs are sometimes not welcome if a trip is fully booked.
You can also visit one of the many national parks in the vicinity. Dogs are welcome in the Plitvice Lakes National Park, Risnjak National Park and Northern Velebit National Park. A trip to one of these locations guarantees you and your furry friend a great time in nature and a unique experience of admiring the outstanding natural beauty.
For taking long walks with your dog there are as many as 300 kilometers of hiking trails on the island of Krk. You can choose between promenades along the sea or forest hiking trails or even more demanding mountain trails.
Our recommendation for excursions and activities you can engage during your holiday with a dog:
Panorama by boat between 4 islands with swimming – an attractive boat trip that gives you a chance to get to know the most attractive parts of Krk coast and the surrounding islands in 4 hours only.
Rab and ex prison islands with swimming on beautiful beaches – an unforgettable day at sea, which includes a visit to the island of Rab and the ex prison islands of Grgur and Goli. You will also have time to swim on the beautiful sandy beach San Marino on the island of Rab and in amazing cove Lisičnjak on the island of Krk, accessible only from the sea.
Full-day taxi boat trip to hidden beaches– an excellent opportunity to spend the whole day at sea, and depending on what interests you, experience the beauty of untouched nature and visit places rich in history.
A visit to the family cheese factory and tasting of Krk sheep cheese – a visit to the family farm which has a long tradition in the production of sheep cheese and other Krk delicacies such as olive oil, marinated olives, and dried figs.
Krk olive oil tasting in the olive grove overlooking the sea – a visit to the olive grove with a beautiful view of the sea and the bay Puntarska vala, which includes tasting of olive oil with toast, salted fish, and cheese, accompanied by a glass of wine. You will also learn more about olives and olive oil.
There are many other excursions available, including private guided city tours, hiking tours and more.
It is time to embark on your vacation with a dog on the island of Krk
We hope that we have managed to picture what awaits you on the island of Krk during your vacation with a dog. One thing is for sure, both you and your best friend will have the time of your life. And who knows, perhaps you'll visit us again.
All you must do now is pack your suitcases, pack all dog toys and delicious snacks, book a dog-friendly accommodation, and embark on a wonderful adventure on the Golden Island of Krk.
If you have questions or need help in choosing and booking accommodation or excursions for you and your furry family member to enjoy, feel free to contact us.