Are you looking for accommodation for your next vacation on the island of Krk? Then you should check out our guide to finding the perfect accommodation for families with children on the Croatian island of Krk.
Depending on your personal preferences, you can choose different types of accommodation (holiday homes, apartments, villas, etc.). So first, you should decide whether you prefer an apartment, villa, or holiday home for your Krk vacation.
Which is better for your family vacation - an apartment or a holiday home on Krk?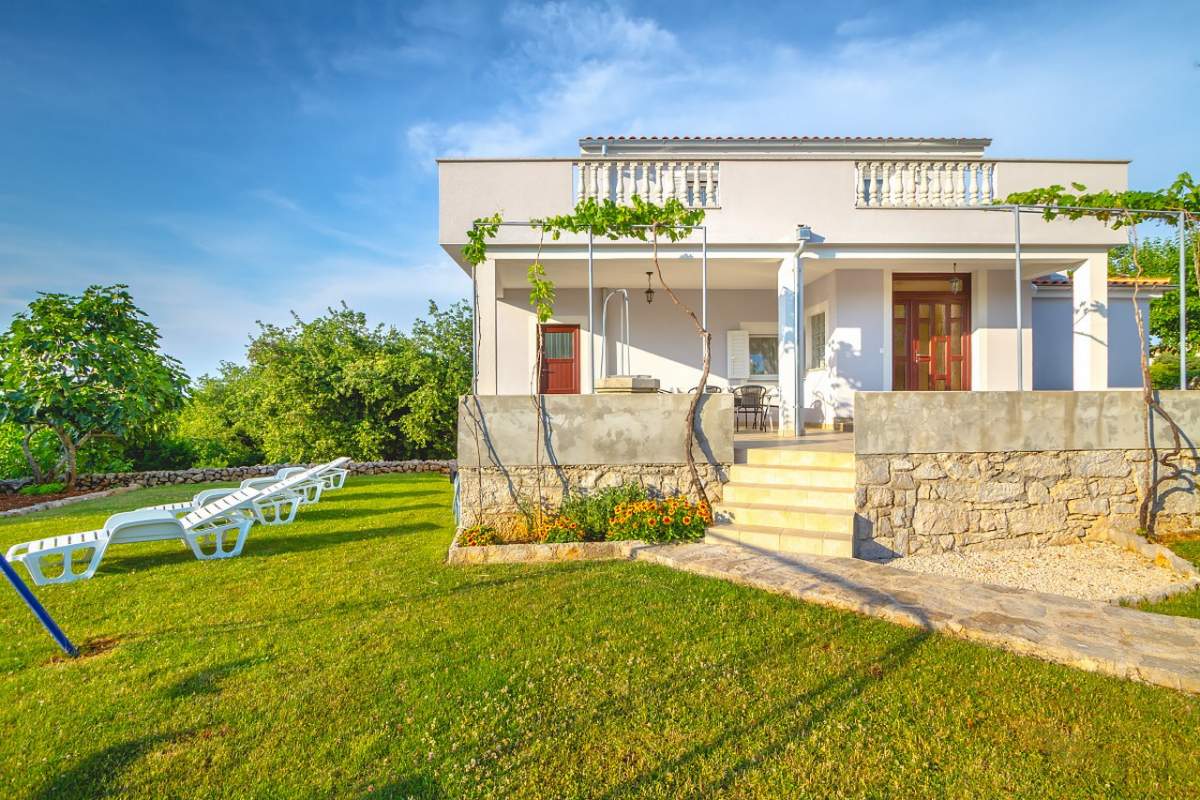 A holiday home or villa is usually located in an area that offers more privacy and independence from other guests. Sometimes this is an advantage, especially when traveling with the children.
So the children can have more freedom and run around in the holiday home or villa without worrying about disturbing the other guests. A holiday home or a luxury villa usually has a larger outdoor area, which is especially nice in summer.
Holiday apartments are also a very popular choice, especially for family holidays. You will find attractive and well-equipped holiday apartments near the beach, in the center, or a quiet location. Some holiday apartments also have a pool. Apartments with a sea view are always trendy.
Holiday apartments are usually cheaper compared to holiday homes and villas. The apartments are also an advantage if you are vacationing with families you are friends with.
For example, if you rent apartments in a house or in the neighborhood, everyone has their own privacy, and at the same time, you can plan exciting activities together.
Some families deliberately choose vacation homes in objects where other families with children are likely to come - so the children have more opportunities to find playmates.
We have selected the most sought-after features for the holiday homes and apartments on Krk for you and summarized them below.
How many beds do you need?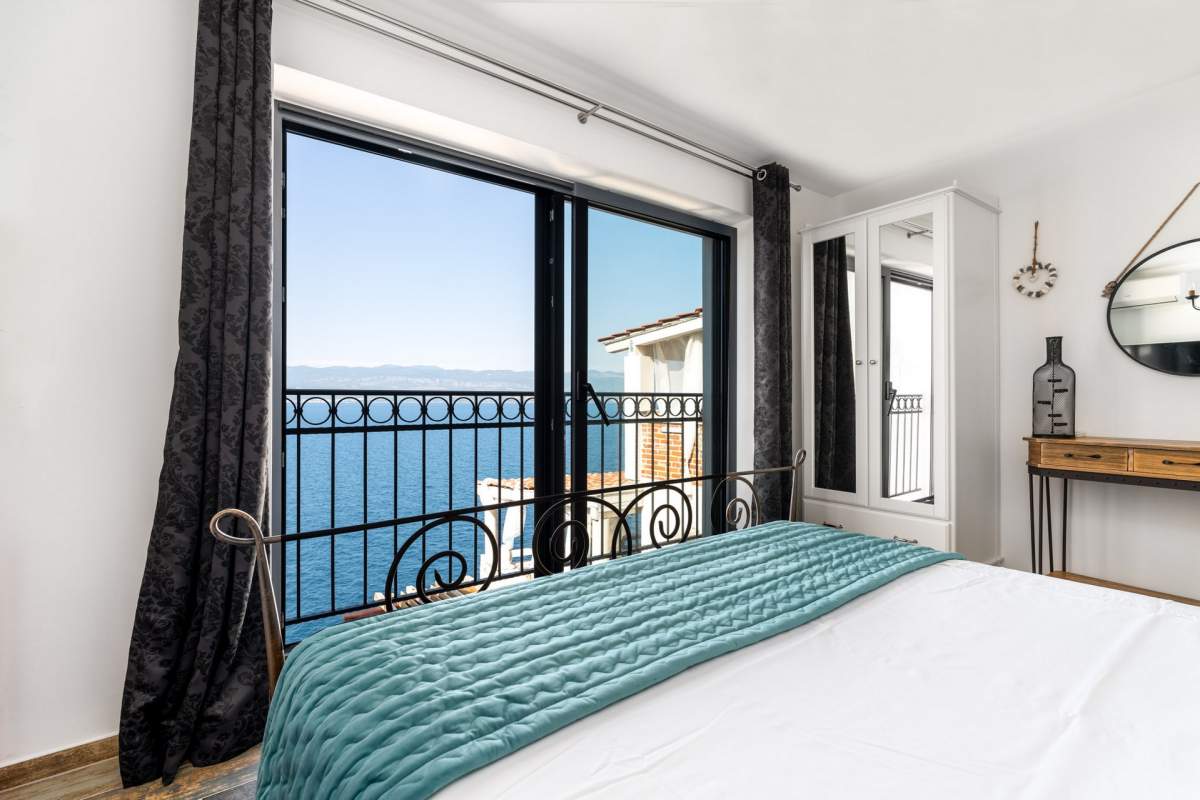 Whether a holiday home or a holiday apartment, it must have the appropriate number of beds and be distributed appropriately in the bedrooms.
If you are looking for separate beds for the children, make sure it says so in the description. Sometimes it is also the case that there is a double bed in the children's room, but there is still an extra bed. In this case, you can organize that the extra bed is also prepared, so you end up with two separate beds.
If you are traveling with a baby and need a cot, please let us know when booking. In the room description, it says whether the baby cot is available. If yes, just say you need the cot and it will be waiting for you on arrival.
Should you also enter the children still sleeping in the bed with you under the number of persons? The answer is yes. In this case, the child still sleeping in the bed with parents must also be counted.
Most double beds are 160 - 180 cm wide. Rarely are there also double beds that are 140 cm wide. If this is important, you better check the exact bed size.
The apartments and holiday homes have a fully equipped kitchen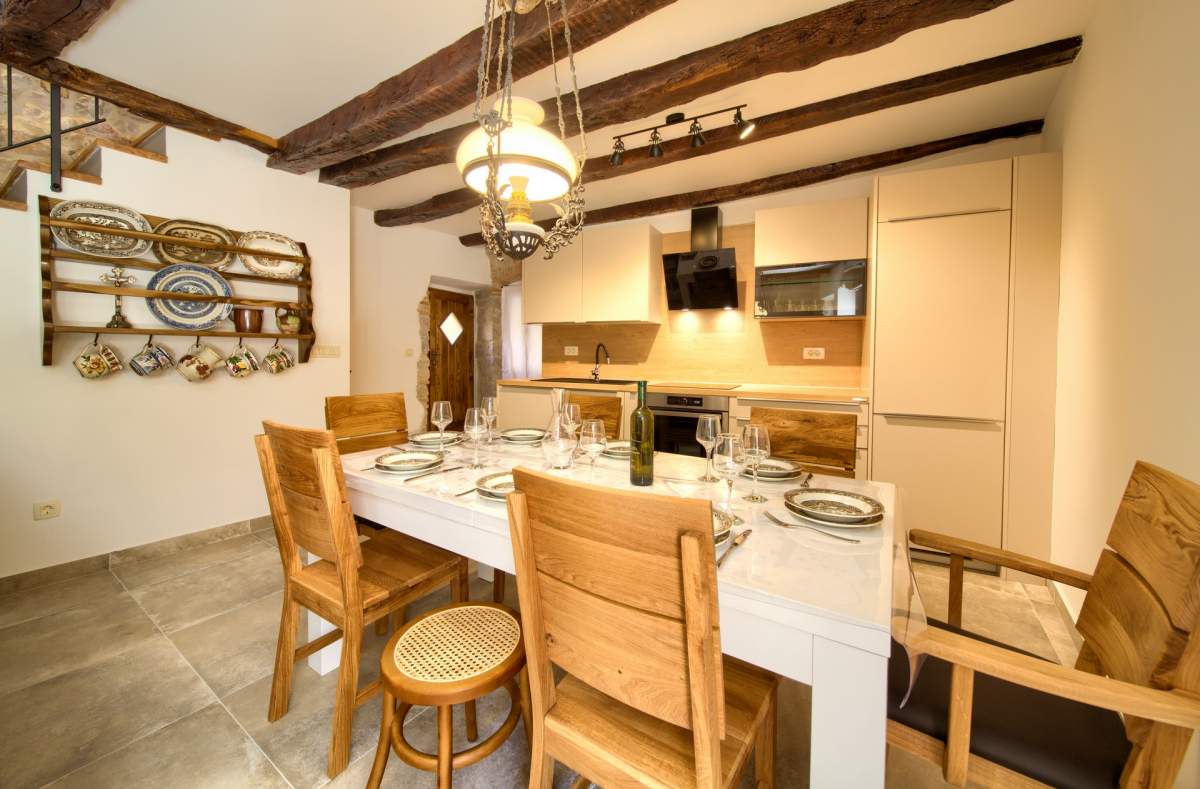 Vacation rentals and vacation homes have fully equipped kitchens. A fully equipped kitchen is also particularly advantageous for family holidays - you can design the meal plan and adapt the dishes to the family's wishes.
You can choose to eat at home or in a restaurant and enjoy the regional cuisine. Combining cooking at home and eating out is also good for the family budget.
The kitchen equipment is described in detail for each accommodation. Pay attention to whether there is an oven, microwave or dishwasher in the kitchen, for example. Or how many hotplates are there for cooking?
Do you need a car for your vacation on Krk?
The island is very diverse, and it is worth discovering its different corners. And the bus connections are not so good.
No problem if you come to Krk by plane - you can rent a car or a scooter on the island.
Is there parking at the accommodation?
Most holiday homes have free parking available. When booking, you should always pay attention to this - it says in the property description.
If the holiday home or apartment is in the old town, the parking lot is usually a few hundred meters away from the apartment. Again, you will find info about parking in the accommodation description.
Our tip: always choose accommodation with a parking space. If the accommodation does not have a parking space, sometimes it isn't easy to find a parking space in summer.
If you come with more than one car, make sure there is parking for both vehicles.
How is the internet connection/bandwidth in the chosen accommodation?
Holidays, especially family holidays with children, cannot be imagined without a good internet connection :).
Almost every apartment or holiday home has an internet connection. However, if you need an excellent internet connection for work on vacation, e.g., for video calls, it is better to check the internet connection quality in advance. I.e., find out how much bandwidth is available.
Is the air conditioning necessary?
The air conditioning makes life easier on hot summer days. Many apartments and holiday homes are air-conditioned.
When the accommodation is described as air-conditioned and unless otherwise stated, it usually means that there is only one air-conditioning unit per accommodation unit, mainly in the living area.
If there are multiple air conditioners, it says so in the description.
Air conditioning is almost unnecessary in some apartments and holiday houses on the ground floor, especially in stone houses. But it is good that the air conditioning is available, then you can always decide on the spot whether you want to use it.
Apartments and holiday homes with a pool - for your perfect family vacation on the island of Krk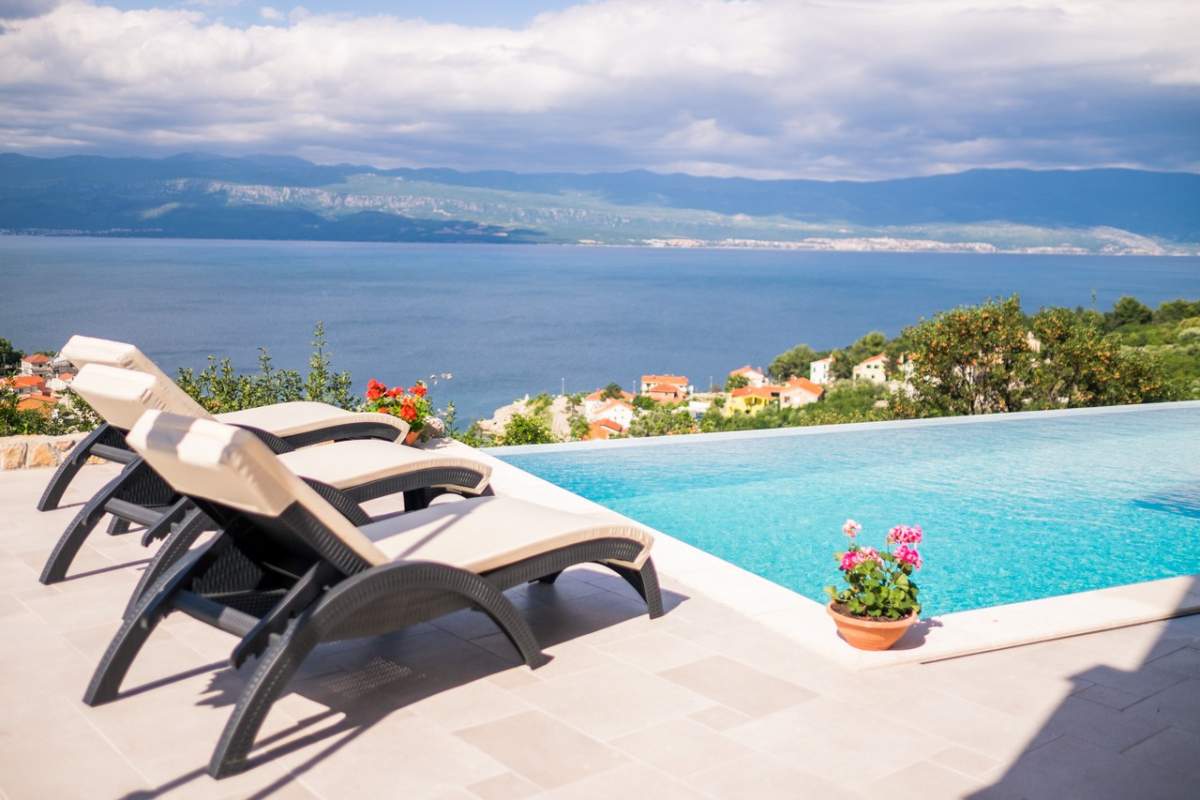 Apartments and holiday homes with a pool are also very popular for family vacations.
A tip - if it's a vacation rental with a pool, see if the pool is for private use or shared with other vacation rentals. If the pool is shared, it is important to know how many other guests/apartments the pool is shared with.
The pool size is always stated in the holiday accommodation description - and can vary from larger to smaller pools.
Another tip for accommodation with a pool - if you come in spring or late autumn, the pool may not be available yet - this is also visible in the property description.
There are luxury villas with a heated pool or heated jacuzzi - this is an advantage, especially if you arrive outside the high season.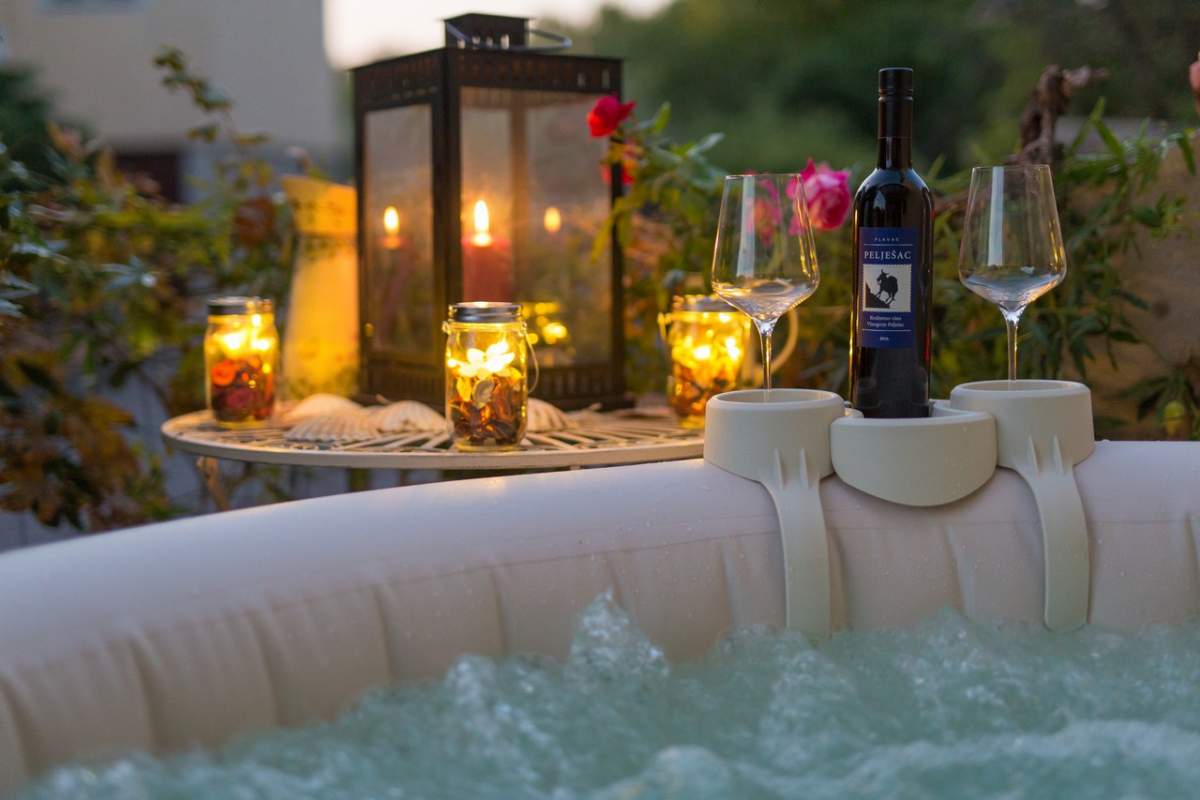 It takes quite a bit of time to fill a pool with water. This means booking accommodation with a pool in good time, especially at the beginning of the season, so that the pool can also be prepared.
In addition, the demand for apartments and holiday homes on Krk with a pool is very high and it is always better to book these vacation rentals in a good time.
Holiday with your dog on Krk
If you are traveling with a dog, please indicate this when booking. The search engine can filter and select dog-friendly apartments and holiday homes.
Luckily, many pet-friendly vacation homes and apartments on the island offer you and your family a comfortable and enjoyable stay.
If you are holidaying with your dog, our tip is that you might prefer a pet-friendly holiday home. A pet-friendly apartment is also a good choice. If you choose an apartment, it might be better for the dog if there is only one or just few apartments in the building. And make sure the patio/garden is fully fenced.
In addition, we have summarized many tips in our guide for an unforgettable holiday with your dog on the island of Krk.
Is it advisable to plan a trip to Krk Island well in advance?
If you are vacationing on the island of Krk in the high season, it is advisable to book accommodation in advance. So you have more choices and sometimes great first-minute offers.
In summer, it is often the case that everything is booked out.
On our website, you can browse & book many apartments and holiday homes on Krk. There you can search for accommodation by location, amenities, number of bedrooms etc. You can also read reviews from previous guests.
How do you best assess whether your chosen holiday home or apartment has the proper price-performance ratio?
The cost of a holiday home or apartment depends on many factors, location, size, amenities, etc. Consider the following factors:
The size of the holiday accommodation - choose the optimal size for your family vacation on Krk.
The property location (near the beach or the center). The proximity to the beach usually means higher prices. However, if it's a small place, everything is generally within walking distance, even if the accommodation isn't directly on the beach. Holiday accommodations in beautiful locations are always in demand.
The pool villas and apartments with pool usually have a higher price.
The amenities that the holiday home has also affect the price.
What also has a big impact on the price is where you book the accommodation. You will always find the best price through local providers. We are proud to offer you holiday homes and apartments on Krk at unbeatable direct prices.
If you can plan your vacation in the off-season, take advantage of the special offers such as book 7 nights, pay 6 nights. And if you are planning a holiday on Krk at the last moment, why not take advantage of last-minute offers?
What is the best place for a family vacation on the island of Krk (Croatia)?
That is, of course, a matter of taste. To get a good overview of the variety of destinations on the island, read our articles about destinations on Krk.
The island of Krk, also called the "golden island," is very diverse and has something to offer for everyone.
Generally, for families with small children, we recommend accommodation in the island's interior or in smaller towns on the island. For families with teenagers, we recommend the larger towns on the island. There the older children have more to do. Also, if you have chosen accommodation close to the center and the beach, the teenagers can move around independently.
A beach holiday in a holiday apartment or holiday home by the sea on Krk is, of course, always very popular, no matter in which Krk travel destination.
Find your favorite travel destination on Krk and also take the opportunity to discover all the larger towns on the largest island in Croatia.
Have you already found a holiday home or apartment for your family holiday on Krk?
Great, then you can plan the activities for your dream Krk family vacation.
There is much to see and do on a family holiday on the island of Krk.
You can find many Krk travel tips on our website. Also, read our suggestions for activities for children and Krk for young people.
Planning a family excursion is always a good idea for a varied holiday. Here you can have a look at interesting excursions on Krk & surroundings: https://www.mare-vrbnik.com/en/excursions
If you need help finding appropriate accommodations & activities for your vacation on Krk, we are gladly at your disposal.
We wish you a relaxing and unforgettable holiday on Krk!