In recent years, cycle tourism on the island of Krk has reached its peak in terms of tourist services and products. Bicycle tourism created an entirely new, active and beautiful story available to all generations. Moreover, the island of Krk is specific precisely because it is one of the few islands that are connected to the mainland by a bridge. That`s why it should come as no surprise that visitors from the region and the world visit Krk throughout the year.
Enriched with hundreds of kilometers of bike trails along the entire island and numerous roads, trekking and mountain biking trails, the island of Krk is undoubtedly one of the most popular destinations for cycling vacation in Croatia and beyond.
For several years, the island of Krk as one of the most popular tourist destinations, offers a whole "range" of experiences for active and adrenaline vacation.
In addition to enjoying the sun and sea on a handful of magic pebble and sandy beaches, the island of Krk will enchant you with its fantastic gastronomic offer and natural beauty.
With a mild Mediterranean climate and a wealth of natural amenities, the island of Krk offers many ways of recreation and entertainment for all ages. So, in addition to bike trails, it also provides numerous hiking trails, tennis courts, mini-golf courses, aqua parks at sea, rides on various marine motor vehicles, wakeboarding, sailing, diving, zipline and much more.
Bike trails on the island of Krk

Bike trails on the island of Krk stretch through hundreds of kilometers of untouched nature that pass along the coast or through forests, mountains and valleys. The Krk bike trails are of different difficulty, from easy to difficult ones, by the sea or in the island's interior, uphill and downhill, of different altitude profiles to satisfy all appetites from recreational to professional and mountain biking enthusiasts.

In other words, you can make a choice depending on who you plan to ride with, what you want to see along the way, and the activity and fun challenge you ultimately want to embrace. Some hiking trails are also bike trails where a pleasant and invaluable ride awaits you. What sets cycling on the island of Krk apart are the amazing sea views, green landscapes, historical and natural attractions in whichever direction you go.
Explore some of the most popular cycling trails, such as the trail from Malinska to Glavotok with a visit to the town of Krk. You can also explore the bike trails in the Vrbnik area that provide great circular routes. If you belong to a group of severe adrenaline lovers and cycling, then the MTB trail in the Baška area is all you need. We recommend exploring the many sights and attractions you will come across on your way. We believe that you will be more than pleasantly surprised.
Rent a bike on Krk
Maybe you are not one of those who carefully plan their adrenaline vacations and often do not have the necessary equipment like a bicycle. In that case, you do not have to worry because the bike tourism and bike offer on the island of Krk do not stop developing and growing. So, there are many places where you can rent your classic or e-bike, take a map with bike routes and embark on a new adventure.
Enjoy exploring Krk on an electric bike
In the spring of 2020, the cycling offer on Krk became even richer thanks to the e-bike sharing system provided by the company Ponikve. Guests and visitors now have the option of renting an electric bicycle. You can find all the important information about this service on the Ponikve website or register in the GO2BIKE system. Furthermore, in our travel agency, you can also rent ordinary and e-bikes (in Vrbnik only for all-day rental). We are always at your disposal for bike & e-bike rental.
When is the best time for cycle tourism and exploration of the island of Krk on two wheels?
There is something magical on the golden island of Krk in every season. Although many cycling enthusiasts prefer exploring Krk's bike trails in summer, spring and autumn offer practically perfect conditions. Autumn is the time of year ideal for cyclists and all other outdoor enthusiasts.
With mild temperatures and beautiful shades of orange, yellow and red, autumn is a great time to experience Krk & enjoy cycle tourism. You can also participate in a recreational tourism bike ride held under the name "I love autumn - Bodul bike." On the other hand, spring brings a new awakening, warmth and longer days that invite outdoor activities, including cycling.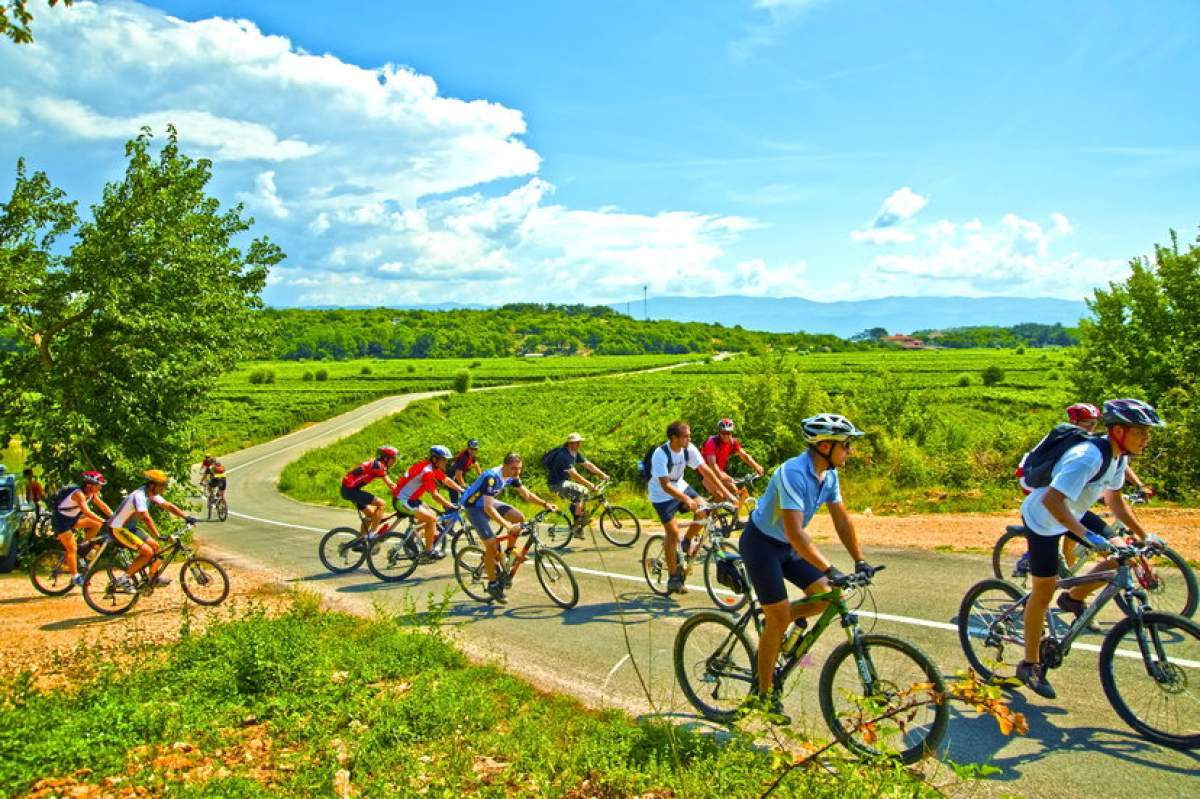 Accommodation for cyclists on the island of Krk
Thanks to the developed cycle tourism, there is a growing demand for accommodation for cyclists. Accommodation for cyclists, in most cases, offers additional storage or a garage where you can safely store your bike.

Of course, to be sure of your bicycle accommodation, it is always wiser to agree with your accommodation owner on how to store it so that the bicycle is not in the apartment itself. Below we bring you a proposal of accommodation that is adequate for cyclists:
• Apartments Vajavina and Zlata have a garage for storing bicycles
• Apartment Marta has a bicycle parking space
• Apartment Braut has a covered area in front of the lockable entrance.
Excursion recommendation for all cycling lovers
Wherever you go on the island of Krk, we are sure that you will enjoy the beauty, fresh air, good food and excellent tourist offer throughout the year. We also suggest an experience from our offer that allows guests and visitors to take their bikes and indulge in an organized excursion.
We recommend this experience in slightly warmer weather such as late spring and summer. You will visit 4 different islands; Krk, Rab, Goli otok and Grgur, with swimming on fairytale beaches and hidden coves. A tour of Goli Otok and Lopar, which have their own cycling routes and trails, will satisfy all your adrenaline appetites.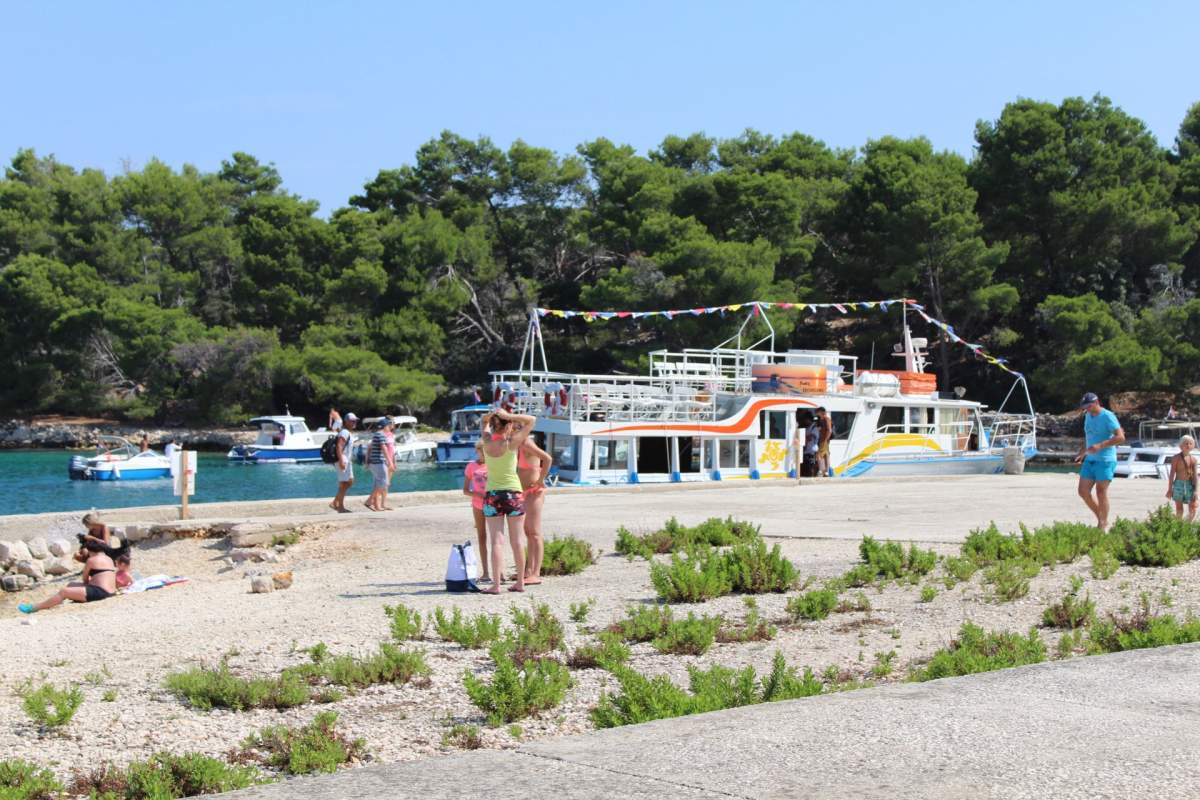 Also, for groups of cyclists, we can always create different excursions. One of the proposals is to go by boat, for example, from Krk to Stara Baška, and then by bike from Stara Baška to Baška, where a boat comes to pick up the group. Enjoying a bike ride, a magical panorama and swimming for refreshment is the perfect way to spend a day on Krk. Through our agency, it is possible to organize such a bike trip. We organize the trip with different boats depending on the number of people in the group, for about 15 cyclists and for larger groups of 40 - 50 cyclists.

Another interesting trip for groups of cyclists from our offer is by boat from Krk to Lopar on the island of Rab. On Rab and Lopar, cycling groups can enjoy very interesting bike trails. You can also take your bike and go by ferry to the neighbor islands, Cres or Rab.
The combination of cycling to various interesting tastings or cycling to the attractions of the island of Krk, such as the famous Biserujka cave is very attractive, too.

Just express your wishes to us, and we will make sure that your cycling adventure on our "Golden Island" becomes the best memory from your vacation.