Did you know that only half an hour away from the island of Krk, there is a real "Wild West," the wild west town of Roswell, once the setting of the movie Winnetou? Only ten kilometers away from Fužine, the heroes of our childhood - Indians and cowboys - still enjoy the fruits of their popularity. A place that takes you back to the time of saloons, sheriffs, horses, shops and residential houses, cowboy roads, country music and other exciting symbols of westerns.
This legendary cowboy town was created to film an even more legendary character Winnetou, a fictional Indian chief of the Apache tribe. German writer Karl May was responsible for creating this character, so it is not surprising that both the films and the character are popular among the German population from the 1960s until today.
From 1962 to 1968, as many as ten films about Winnetou were filmed, which was made possible by the collaboration of West German filmmakers in co-production with a Croatian film company, Jadran film. Filming took place in beautiful locations of untouched nature in Croatia, such as the National Parks Plitvice Lakes, Paklenica, Krka, Velebit, the canyons of Zrmanja and Vrlika rivers and the surrounding areas.
These filming locations started the unbreakable link between Germany and Croatia that continues to this day.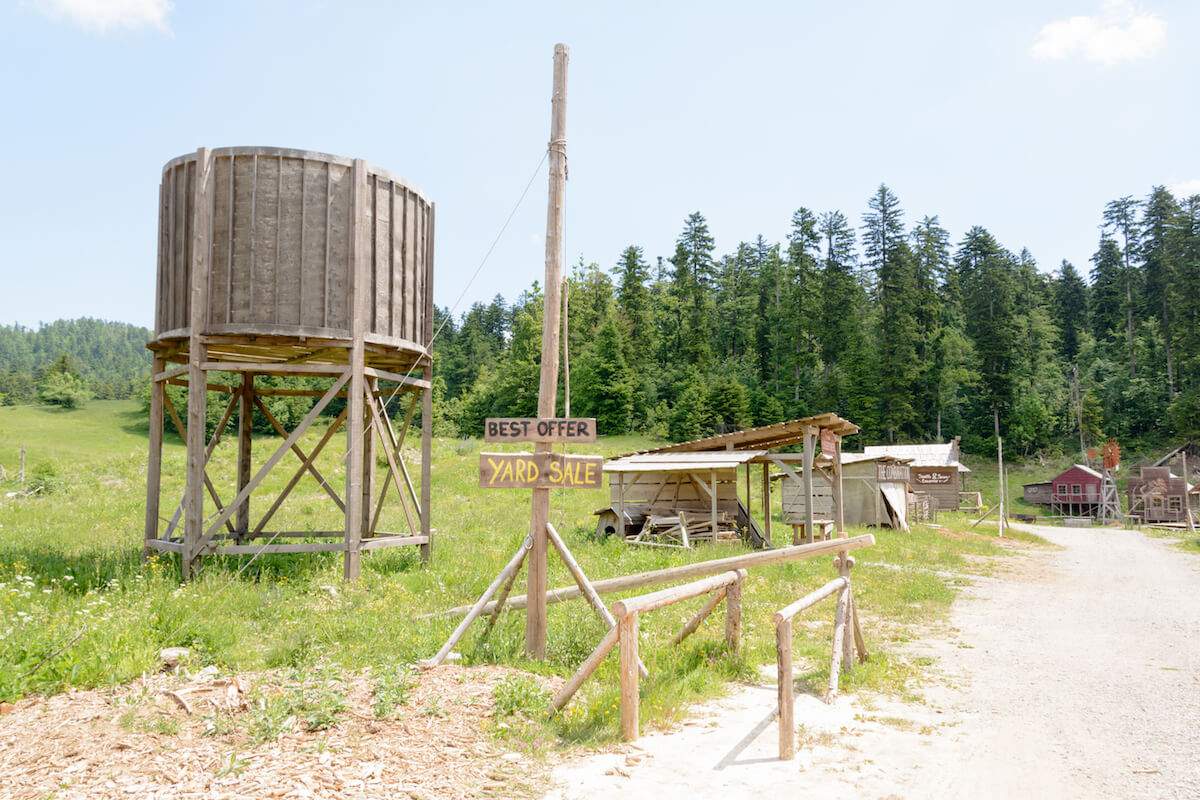 Winnetou and the cowboy town of Roswell in the green heart of Croatia
Not so long ago, in 2015 and 2016, three films about Winnetou (a new trilogy) were filmed, and the western town of Roswell was built for this purpose. The filming of the famous trilogy mostly took place in the areas Gorski Kotar, Platak, Rijeka and other locations of our beautiful homeland and in certain film studios in Germany.
As agreed by the German filmmakers and locals, the scenery of the set was not demolished but preserved primarily for tourist purposes. So, on the meadow between Fužine and Lokve, on a small hill in woodland, the German filmmakers created a wild west town of Roswell. Since its beginnings in 2018, when it was first opened for visitors, this western village counts more and more domestic and foreign guests every year, thanks to its resemblance to a real small town in the Wild West.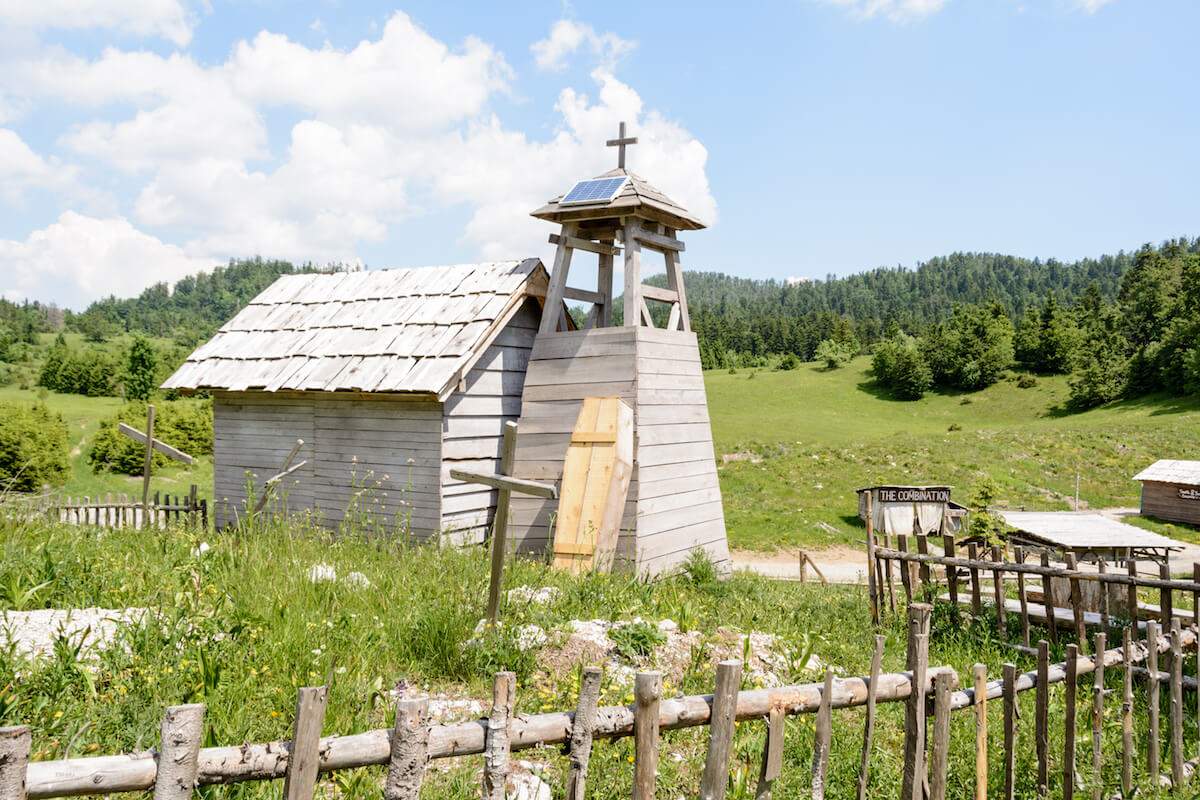 The local community strengthened the scenery and the buildings and added many new interesting contents. You will also have an opportunity to see an exhibition about the films and filming locations. One of the most interesting new details are life-size sculptures of the main actors.
Today's edition of our western village offers its visitors everything the conquerors of the Wild West once had. Not today nor then could we have imagined a western without popular facilities such as smithies, banks, a saloon, a brewery, a post office, a shop, a small sawmill, a public bathroom, a watering place for horses, a barn and of course the sheriff's office.
Visitors can also sneak a peek into an attractive "fun" house ruled by scantily dressed girls Fat Betty and Sweet Dolly. A small chapel, a pair of wooden benches and a cemetery have all found their place on a small hill next to the "western city "to make everything authentic.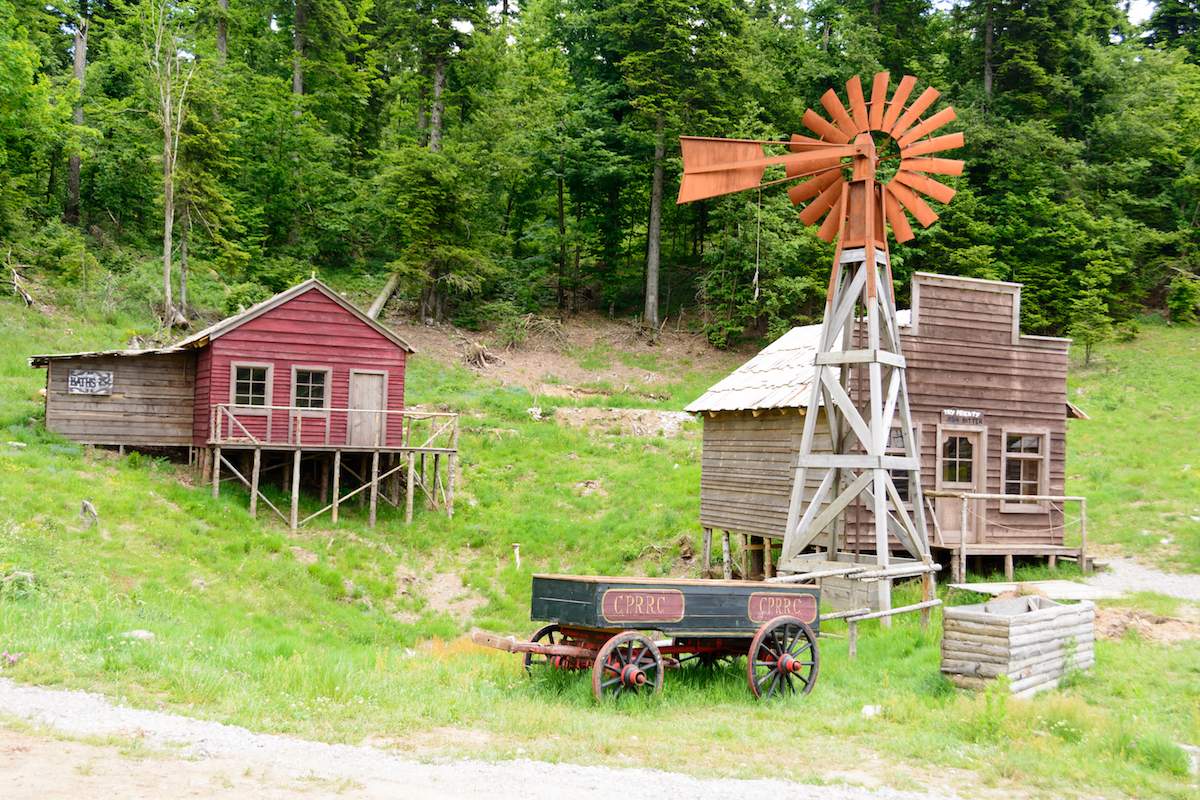 Fun for the whole family in a cowboy spirit
It is surprising how popular this legendary cowboy story and its main actors are even today, especially among the slightly older generation of Germans and Austrians. They passed on their love for westerns to their children, which was not difficult because we all grew up playing games of cowboys and Indians, so we can agree that there is no age limit to the love for the western.
The western village of Roswell is the perfect place for an escape to nature with the whole family, which has been recognized by both domestic and foreign guests, regardless of whether you are a connoisseur and admirer of the work of Karl May.
From May to October, visitors have access to numerous cowboy activities such as horseback riding, lasso throwing, horseshoe throwing, and Winchester rifle shooting. In addition, you can try your hand at archery or rent a barbecue and enjoy a cowboy-style picnic.
You will surely enjoy the witty photo points, cool off with a drink in the Saloon, visit a small exhibition about the filming of Winnetou and finally find a charming souvenir in the store building as a reminder of an unforgettable cowboy day with your loved ones.
How to get to the western village of Roswell in Gorski kotar?
You can experience all of this if you visit the beautiful Gorski kotar, which you will surely enjoy during any season. You can reach the town of Fužine from the island of Krk by a highway. After arriving in Fužine, continue for five to ten minutes on the macadam road and visit Roswell's cowboy village.
The ticket price for adults is 20 kuna (approx. 2.5 Euros), for children aged 4-18 half the price, while a family ticket is 30 kuna (approx. 4 Euros).
The area of the cowboy town is full of potential for upgrading and completing the whole story, which is planned for the near future.

If you haven't already, be sure to plan one fun family day or a day out with friends in the cowboy town of Roswell. Discover why this place is important to generations of fans and why it's a popular place to visit in Gorski kotar.
Apart from Roswell, don't miss out on exploring the beautiful Fužine and lake Bajer as well as other parts of Gorski kotar. In the immediate vicinity is the Risnjak National Park, which we also recommend for a tour. Nature and landscapes will undoubtedly have a "therapeutic" effect on your mind and body.