You feel that you need a short escape from everything, a little break that will relieve your everyday life and have a significant effect on your mental and physical health? Then you will not go wrong if you decide on a weekend getaway to the island of Krk.
As one of the most popular and oldest tourist destinations, the island of Krk is known to many guests and visitors. The vast majority reserve the summer months for vacation and stay on the island of Krk, so they enjoy exploring and getting to know our "golden island" when the tourist offer is the richest and most colorful.
No matter what style of vacation you prefer, the island of Krk has an offer for all tastes and all generations. Everyone can enjoy many activities, beautiful pebble or sandy beaches and excellent gastronomic offers. You can also learn about the history and various attractions of the island.
But what if it's not the peak of the season and you only have 2-3 days available, and you really want a change, to get away from everyday worries, to turn off and completely relax. You might decide to take a short weekend vacation on Krk island with family or friends or plan this adventure just for yourself. Here we bring you our recommendations and tips on what to do, visit and see on the island of Krk for a weekend vacation in a short time through all four seasons, each in its way unique and magical.
If we add to all this the excellent transport connection of the island of Krk with the mainland, your dream of a short but sweet Krk weekend getaway vacation can come true instantly.
Summer
If you decide to stay on the island of Krk during the season or summer months (late June, July, August, early September), be prepared for an increased number of tourists from whom you can still escape by discovering hidden coves and beaches. If you only have 2 to 3 days available, we recommend one of our day trips by boat. So, you can relax your mind and body and enjoy the untouched nature and beautiful views. A day filled with sun and enjoying the joys of the sea is always a great choice.
You have at your disposal various variants of half-day and full-day excursions where you can visit some of the most beautiful hidden beaches and the neighboring islets and islands that delight all visitors. For example, a boat trip to the Blue Cave and the Golden Beach is an excellent choice for a family day where you will get to know the magnificent natural beauties of Krk and the neighboring uninhabited island of Plavnik. And if you want a trip wholly tailored to you and your interests, you have a half-day or full-day taxi boat trip whose itinerary you arrange directly with the skipper.
If you are more of an active or adventurous spirit, then you can choose between different activities like zipline, sailing, kayaking and offroad quad adventure.
We suggest you dedicate one day to discovering the local cuisine and some of the many Krk delicacies. Enjoy the famous local wine Vrbnička žlahtina and meet the "main responsible" behind the fantastic dine & wine offer of the island of Krk. If you just want to walk, explore and get to know the island's heritage, then the city of Krk is a real treat for you with its rich history, exceptional architecture and other secrets it hides. For romantic souls, we suggest a visit to a unique town of Vrbnik that is difficult to describe because you need to discover its unique beauty personally.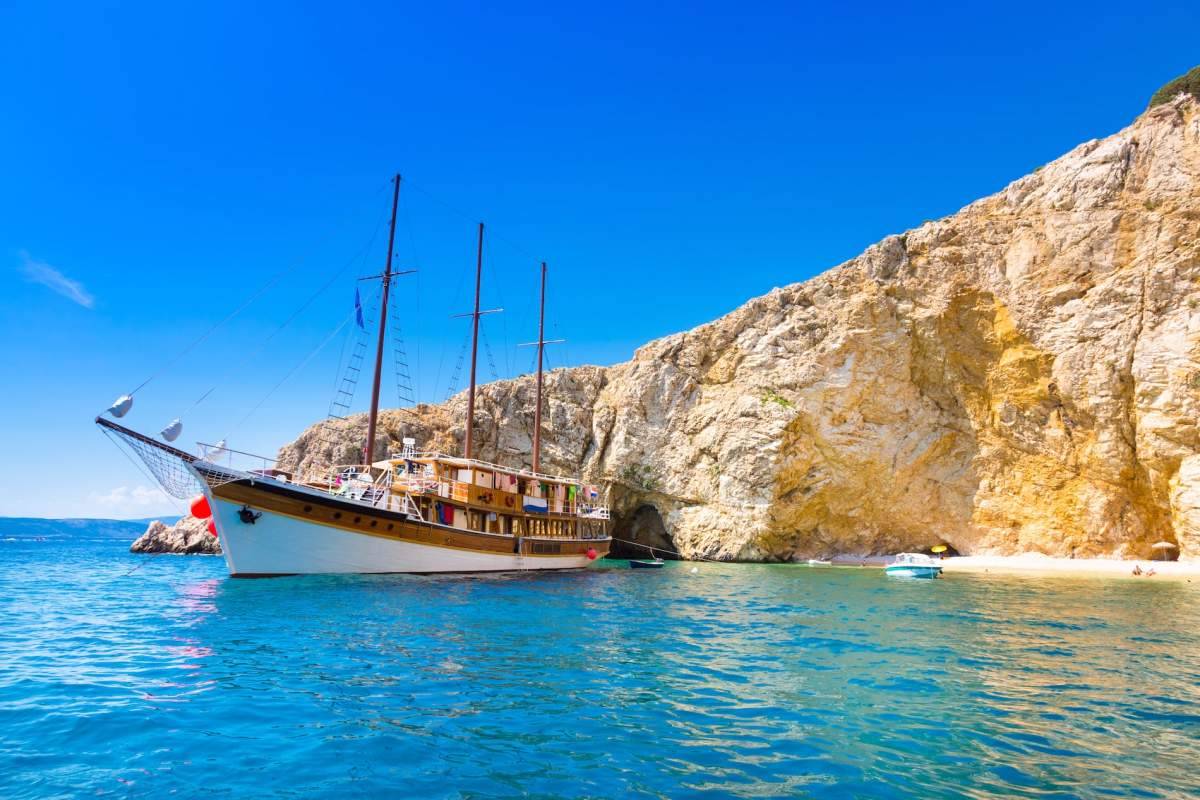 Autumn
With the arrival of autumn, our days are slowly shortening, the heat and crowds are easing. Nature is painted in autumn shades, so every look at it calms and relaxes. The autumn is an ideal time for a slightly more relaxed experience of the island of Krk. The month of October is reserved for the "liquid treasure" of the island of Krk - olive oil. Explore the organized experiences that offer excellent opportunities like participating in the olive harvest, sightseeing, and tasting local products (olive oil, homemade fig brandy, goat and sheep cheese, honey, and wine). Also, do not miss the delicious and educational tour of olive groves & tasting of Krk top olive oils.
It's also good to know that October and November are favorite months for cyclists, so it's a good idea to take your pet on two wheels and join in exploring the island on the more than 60km of bike trails available to you.
Winter
Mild winter, sunny days, fresh sea air and a view of the crystal-clear sea are perhaps the best "cure" for feelings of overload and stress. Spend a weekend getaway exploring the island of Krk. Enjoy hiking or walking along the coast and exploring the Krk natural beauty and cultural heritage. Take a walk through nature and visit the Prniba peninsula, whose natural environment is ideal for relaxation and meditation. Then, simply experience a Mediterranean winter weekend and enjoy stress-free island life with a long drink of coffee on the sunny waterfront.

Spring
With the early spring, more and more weekenders are slowly coming to the island of Krk as well as lovers of active holidays such as cyclists, climbers, and mountaineers. With warmer days, the island of Krk offers more and more opportunities, both for adults and children. The offer of leisure activities & experiences is expanding and becoming more diverse. In the springtime (April, May), numerous gastronomic events are organized where you can enjoy traditional flavors. There are also events that include cycling or other sports adventures so that you can combine active vacation and gastronomic enjoyment.
Also, this is an ideal time to explore the Camino Krk pilgrimage route, which stretches for about 150 km. All the way, you will be surrounded by spectacular scenery and views of the natural and cultural sights of the island. So, your Krk weekend getaway can be both active and relaxed. If you are a little braver, you can join the first swimmers because the sea temperature can be quite pleasant in May.
No matter what part of the year you decide on a weekend vacation on Krk island, we are sure you will enjoy it endlessly. Each season tells its own story. Even a short Krk weekend getaway will let you experience island life and fill your body and mind with positive energy. For questions, advice and recommendations, we are always at your disposal. Feel free to contact us.