The island of Krk has been called the "Golden Island" since ancient times. It is located in the middle of the beautiful Kvarner Bay, easily accessible by car (thanks to one of the longest concrete bridges in the world), and also by plane. Another name that the island of Krk proudly bears is "the cradle of Croatian culture" because of its rich cultural and historical heritage.

However, its popularity among tourists from all over the world is due not only to the beautiful nature and rich culture, but also to the great offer of exciting activities and experiences to everyone's liking. The moment they arrive here for the first time, almost everyone has the same question: so, what's next, what to do on Krk?

There is no shortage of great things to do on the island of Krk. If you arrive in the summer months, the main activity is, of course, swimming and sunbathing on many beautiful beaches. You can choose busy and lively city beaches such as the most popular Vela plaža in Baška or discover hidden, practically secret coves that can be reached only by boat. Sandy, pebble, rocky, ones – there are all kinds of beaches at your disposal. To experience the coast in a special way and explore the magical coves of the island of Krk, and potentially discover other fascinating islands that surround it, we suggest you take one of the many boat trips.

Besides the sea and the sun, the island of Krk offers many activities that make your vacation unforgettable. In the article about attractions on Krk, we have suggested 10 attractions that are a must-see while holidaying on Krk. Here we bring you some of the experiences, activities and adventures specific to the island of Krk - something that you should not miss while on the island.

What to do on Krk island and have a great time?

1. Make a toast with Vrbnička Žlahtina wine in Vrbnik
Vrbnik is one of the most visited places on the island and is situated on a high cliff on the east coast. In addition to its glorious past and Glagolitic heritage, its main attraction is the gold-yellow wine produced from the indigenous grape variety Žlahtina. This widely popular dry white wine is produced only in Vrbnik and its surroundings.

Many families of Vrbnik have devoted themselves to the production of Žlahtina, but also other wine varieties, thus turning their love of grapevines into their daily lives. You can taste Vrbnik by tasting 7 varieties of wine and visiting the winery and getting acquainted with the technology and tradition of wine production at the same time.
2. Have a cocktail in ancient catacombs
You can discover the ancient history of the city of Krk in the most unexpected places. For example, inside the house Perossi, there is a cafe bar Volsonis, a valuable archaeological site. So, why not sip summer cocktails and enjoy live music while exploring the 1700-year-old underground passages and gardens where numerous stone monuments have been discovered.

Here you can see the Altar of Venus, dedicated to the Roman goddess of love, as well as numerous tombstones reminiscent of the long history of Krk. It certainly makes this place one of the most unusual cocktail bars and nightclubs, thus making this drink an experience to remember for a long time.
3. Roll in medicinal mud
Rolling in the mud may be one of the best leisure activities you can do on the island of Krk and potentially the healthiest. You can find this extraordinary healing mud on Meline beach on the west side of Klimno bay.

The sea here is extremely shallow. You can walk hundreds of meters and the sea will still be up to your knees. The sea here is always a little warmer than elsewhere on the island, so the first sunbathing and swimming begins already in the spring. The combination of mud and sun on the body is believed to cure gout and rheumatic diseases. Meline Beach is a trendy destination among families with small children. There are no special instructions on using the healing mud, just rub it all over your body and enjoy the sun.
4. Discover the underwater world of the island of Krk
If you are an experienced diver, you will surely be amazed and delighted by the underwater world of the island of Krk. And if you have never tried diving, what awaits you is an unforgettable experience and many attractive underwater sites on the island and in the surrounding area.

There are several attractive underwater sites that you should not miss, such as the sunken Greek motorboat Peltastis, which has been at the bottom of the sea for more than half a century. You should also discover the underwater world of the island of Plavnik where you can explore a sunken sailing ship from the time of Napoleon's reign.

The island of Krk offers numerous diving trips to 8 nearby islands, with 40 different dive sites for all divers, from less experienced to the most experienced. Those who want to experience an underwater adventure for the first time can take a diving course or opt for diving for beginners.
5. Try your hand at water sports
Something you certainly don't get a chance to try your hand at every day is wakeboarding. Wakeboard Cable Krk is located in the bay between the towns of Krk and Punat. The center is set up on a platform above the sea, and its 400 m2 are home to a ski lift, board shop and a restaurant with a roof terrace that offers a great view of wakeboarding stunts. You can rent or buy all the equipment, and this is an ideal location for everyone who wants to have an active holiday while enjoying an authentic summer atmosphere.

Another attractive water sport that could win you over is windsurfing. The island of Krk is one of the best Croatian destinations for this sport, thanks to the frequent and strong wind. The northeast wind Bura blows from the Velebit mountain range and the wind Jugo, which often brings rainy weather, blows from the south.

The two main places for windsurfing on the island of Krk are Baška and Dunat. More experienced surfers find Baška very interesting because the strong Bura wind "arrives" from the mainland on the opposite side and creates waves that can be up to 1.5 m high. On the other hand, thanks to its position in a protected bay, the wind in Dunat is milder and ideal for beginners.

An excellent choice in water sports is also sailing. Whether you are experienced in sailing or do not have any experience yet, there are individual and group sailing tours available. Renting a sailboat for one or more days is available to more experienced yachters, while beginners accompanied by experienced skippers can enjoy half-day or full-day sailing tours.

If you want to learn to sail, you can choose between two-day and four-day sailing basics courses. And if you already have experience and want to improve your skills, there are advanced sailing and navigation courses as well as intensive sailing courses at your disposal.
6. Taste šurlice, a homemade pasta
After water sports, the body needs good nourishment. And there is nothing better than šurlice, the delicious homemade Krk delicacy. Šurlice pasta is prepared from homemade dough and has been part of Krk's cuisine since ancient times.

Once upon a time, the islanders served šurlice pasta exclusively with lamb and beef stew. Nowadays, šurlice pasta is served with various sauces made of wild asparagus, excellent homemade prosciutto, scampi, or mussels. If you feel like it, you can learn the art of making šurlice in the šurlice pasta making class.

Food is an essential part of everyday life on the island of Krk, so make sure to indulge in local cuisine without reserve. Food is, after all, still the best way to experience the local culture of each destination. Food is a combination of smell, taste and appearance, local traditions, and influence of local people, from field to table.

The cuisine of the island of Krk is a perfect example of the Mediterranean diet, which is considered very healthy. The testament to this is the fact that the inhabitants of the island of Krk live longer than their neighbors from the mainland. In addition to the pleasant climate, this is undoubtedly due to their diet. Olive oil, herbs and vegetables that grow on the island, seafood from shellfish, scampi, and Adriatic squid to freshly caught fish and Krk lamb meat, are valuable ingredients in the daily local diet.

Add homemade sheep's milk cheese, honey, figs, homemade brandy and world-famous Vrbnik wine, and what you get is a meal worthy of the royal court. If you want to fully indulge in the gourmet experience of the island of Krk, there is a 7-day gourmet trip around the island for you to take part in. You can also choose single gourmet experiences of tasting island delicacies and visiting olive groves, prosciutto production and cheese production facilities.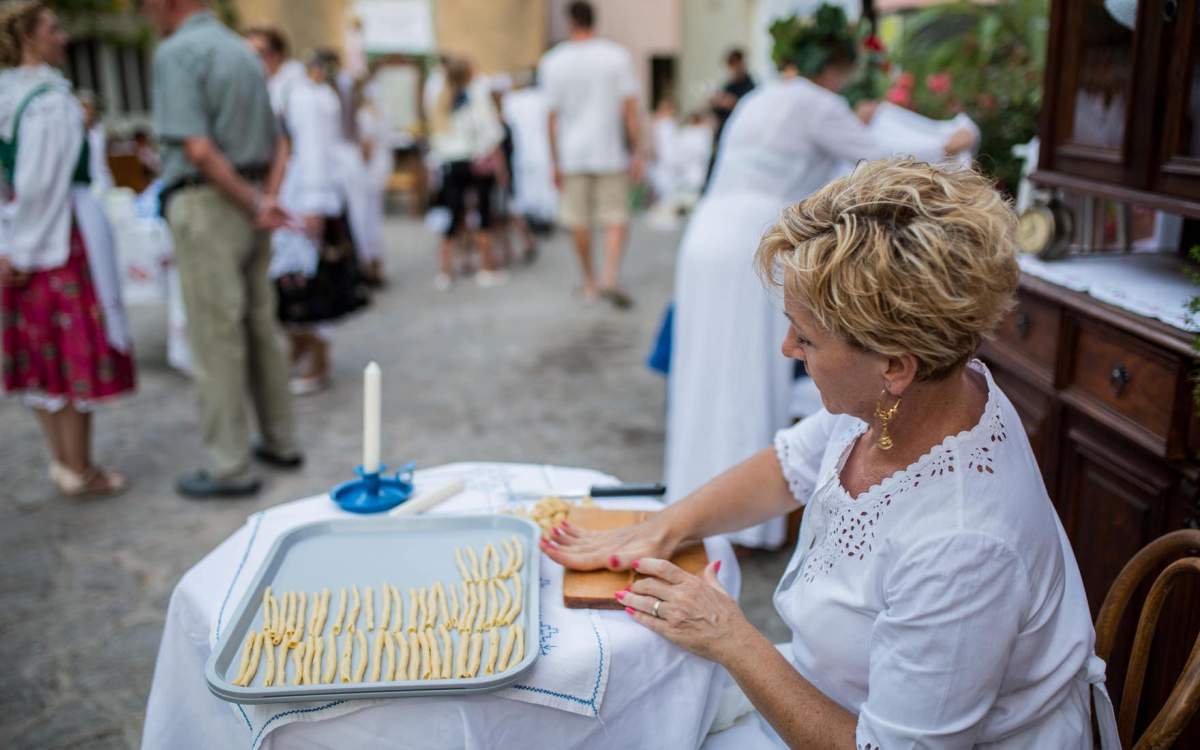 7. Conquer Obzova
If you are a fan of walking, hiking and outdoor activities, you will enjoy the island of Krk. You have as many as 300 km of hiking trails, from promenades along the sea, forest paths to more demanding hiking trails. Do not miss the opportunity to conquer the highest peak of the island of Krk - Obzova. At 569 meters above sea level, a stunning view of the Kvarner Bay awaits.

There are hiking and promenade maps to choose the routes from, which you can also find on Krk Hike app that you can download for Android and iOS.
8. Take a walk through the treetops
Although you can enjoy the enchanting view of the island when standing on numerous Krk belvederes, why not experience it with your feet up in the air? For all those seeking adrenaline fun, there is a zip line walk above the treetops to experience the island of Krk from an entirely new perspective.

"A walk through the treetops" is for sure an unforgettable adventure that consists of driving an off-road vehicle, walking through impressive landscapes, and taking an exciting descent on cables to a total of more than 2 km in length.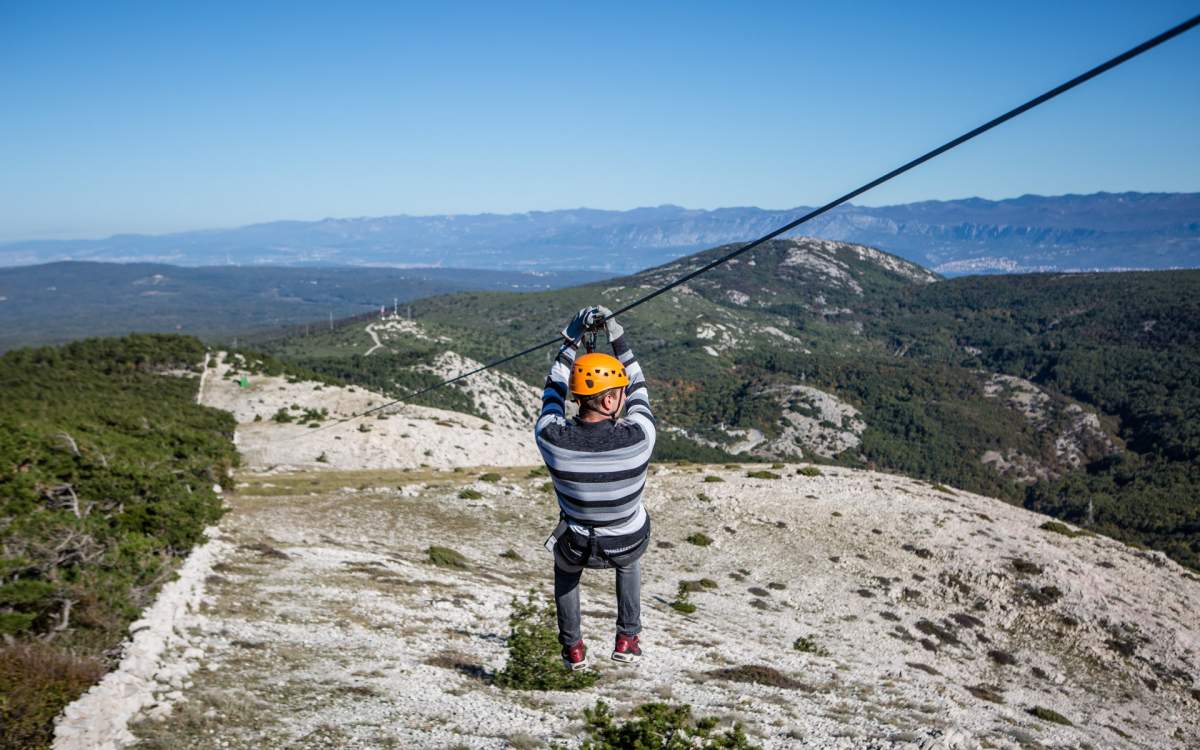 9. Embark on an off-road adventure on four wheels
Hop in the quad and embark on an off-road adventure on Krk that takes you through amazing Krk landscapes and impressive natural beauties.
The experienced guides will accompany you while you are enjoying this unforgettable adventure.
The guides will introduce you to the quad and be at your disposal all the way to help you overcome all potential challenges with ease.

75% of this circular route is off-road, and in the three hours the adventure lasts, you will get to visit exciting places and attractions and take many eye-catching photos.
10. Become a karting champion
If the speed gives you an adrenaline rush and the smell of gasoline and burnt tires is something you enjoy, the karting club on Krk is the right place for you. On the 300 m long go-kart track, you can show off your driving skills on a car equipped with a Honda 200 cc four-stroke engine. You will be protected by safety equipment, so you are guaranteed an unforgettable ride, good fun and a handful of excitement.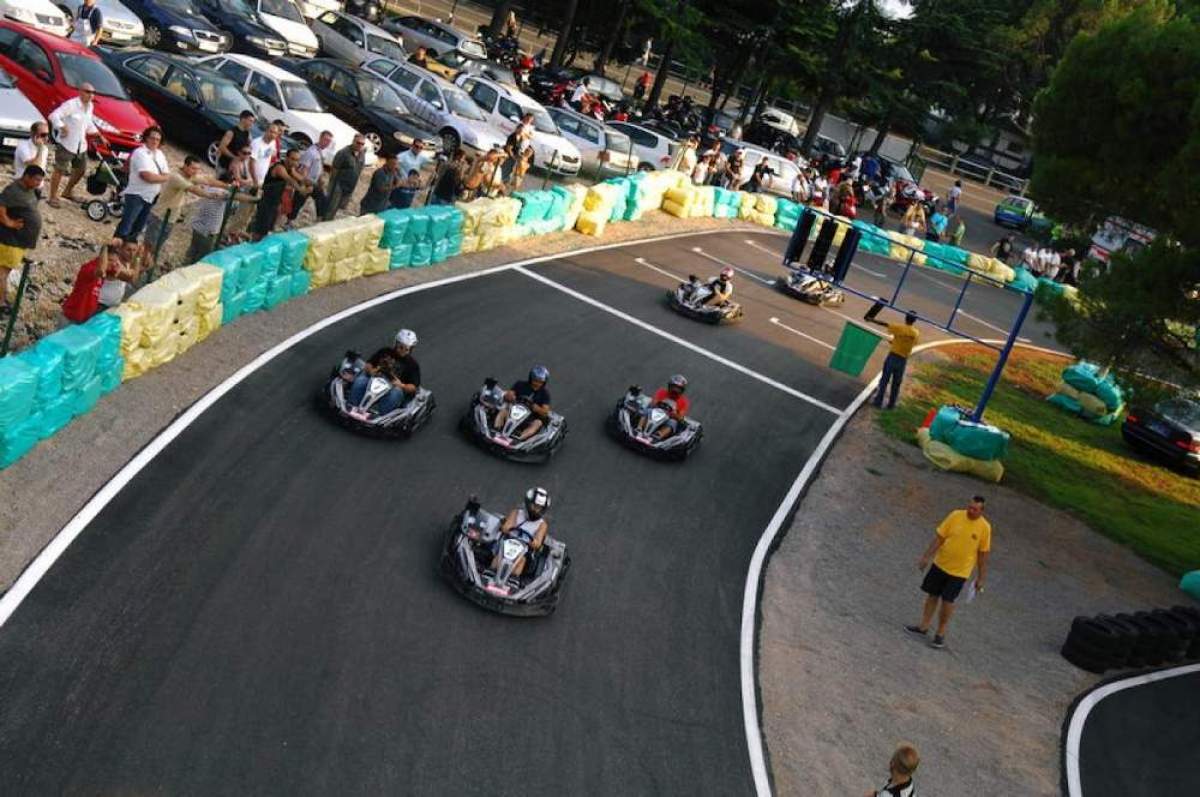 As you can see, it is indisputable that there are many things to do on Krk. The biggest problem will be how to fit all these great activities and experiences in so little time. We are here for you if you need help with the schedule and organization of excursions or accommodation and if you need personalized advice or have any questions. And if in the end you still fail to experience all that our golden island has to offer, there will be no other choice but to visit us again.