Excursions, experiences & tours:
16 found
Here you will find wine tasting Krk tours, gourmet experiences, tasting of Krk island delicacies and multi-day gourmet tours.
The gourmet story and offer of the island of Krk will satisfy all different desires and preferences when it comes to one's love of food and drink. Our golden island is proud of its many beauties, from natural to cultural, rich history and heritage, but also with its indigenous ingredients, traditional dishes and delicacies, simply superb local cuisine.
We have prepared a variety of delicious gourmet trips, gastronomic experiences and gourmet multi-day self-drive trips. We feel it's the best way to show you all the variety in our gastronomic offer. Self-drive or self-guided trips are especially convenient because you follow the plan we have prepared for you at your own pace. Perfect, isn't it!?
If you are a passionate gourmand and hedonist when it comes to enjoying fine food and a good sip, we definitely recommend the "Taste Krk" self-drive trip through our Golden island. During the 7 days of the tour with your own car, you jump into a new fun and delicious adventure every day.
Enjoy a unique gastronomic experience of Krk island
The island of Krk is an ideal choice for all lovers of enogastronomy because of its fertile soil. Vrbnik field that stands out is located at the very entrance to the beautiful Vrbnik. A favourable climate and protected position have enabled the fertile soil of Vrbnik a rich growth of all crops, especially indigenous grape varieties.
As many as 120 wagons of grapes are produced annually on more than 100 hectares, further processed into the famous and unique dry wine, various distillates and sparkling wines. Vrbnik field is home to the most famous autochthonous variety Zlahtina bijela. The specificity of this dry white wine made from Zlahtina white is that it is produced only in the Vrbnik field. Therefore, be sure to get to know and taste our unique top-quality wine, Vrbnička Žlahtina.
Vrbnik Zlahtina is characterized by light yellow to straw yellow color, delicate aromas and characteristic taste. It contains 11% alcohol and goes perfectly with homemade sheep cheeses from the island of Krk, fish and seafood specialties, and white meat dishes. Be sure to take a look at our excellent selection of delicious and fun gastronomic tours, experiences, excursions and wine tours that we have prepared for you.
Vrbnik wine tasting of Zlahtina and other local wines
You have a great opportunity to explore, taste and get to know the fantastic flavors of local wines and food. Wine evening in Vrbnik is a great opportunity to learn more about Krk wines. You will surely enjoy tasting as many as 9 wines in the 3 most famous wineries on the island of Krk.
In addition to having the opportunity to learn all about the most famous Vrbnik beverage, Vrbnička žlahtina, you can learn a lot about wines in general and their characteristics. If all this sounds quite tempting, be sure to take advantage of our offer, which is available from April to October, because this eno-gastronomic experience is a holiday for all the senses.
For those very thirsty and slightly less hungry guests and visitors, we offer numerous day trips such as visiting and touring the winery in the House of Wine and tasting 7 Krk wines. While you feast in your sips in the beautiful ambiance of the terrace with an incredible view, the hosts will tell you interesting and historical stories about the charming Vrbnik and its most recognisable product - zlahtina.
Tasting of top Krk olive oils and a tour of the olive groves
One of the most famous symbols of the island of Krk is his "liquid treasure" - olive oil. Thanks to numerous hiking and biking trails, the olive groves of the island of Krk have become one of the most popular natural attractions.
Many have discovered that the combination of active and gastronomic activities is excellent. That's why we have prepared for you an opportunity you don't want to miss, tasting our premium and award-winning olive oils and tour of olive groves while listening to all the interesting facts and stories about olives.
If you wish to taste Krk delicacies in the olive grove above the sea while learning about olives and olive oil, we have a great trip for you: Krk olive oil tasting in the olive grove overlooking the sea.
Gastro experiences of traditional Krk dishes
We want to bring you closer to our gastronomic story with local ingredients and dishes, because it would be a real shame to preserve such a wealth of flavours only to ourselves. One of our most recognizable produce is Krk sheep cheese, an autochthonous island cheese. You can taste it in many restaurants or in family cheese dairies on the island of Krk that preserve tradition and flavours.
For that reason, we have designed a trip to visit the family cheese farm and sheep cheese tasting where you have the opportunity to get to know the method of cheese production and the best part, taste and buy their products.
Another star among the autochthonous foods of the island of Krk is certainly Krk prosciutto. Apart from being widely known, it's protected in the EU. It is unique precisely because it is salted with wild herbs that grow on the island of Krk, and in addition to not being smoked, it's specific is that it matures in the skin and dries in the Krk wind bora. And we want you to experience this exquisite prosciutto, so we offer you an organized tour tasting of prosciutto and other Krk delicacies.
All pasta lovers should get to know the famous šurlice, a traditional homemade pasta that goes best with lamb and beef stew, as well as all other sauces. We also wanted to give you the opportunity of a small course school of making šurlica and then, the best part, taste them.
It is up to you to indulge in our organized gastro experiences, day trips and wine tours and enjoy discovering the gastronomy of the island of Krk. Our assistance is at your disposal should you need it, simply express your wishes, and we will make them come true by creating an itinerary to your taste and rhythm.
Enjoy Krk with all your senses!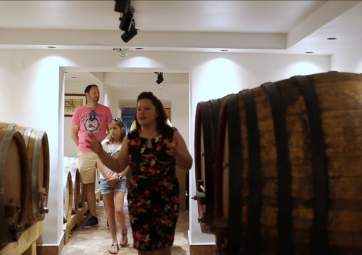 Wine tour and 7 local wines tasting in the House of Wine
Vrbnik
9.8/10 based on 10 reviews
Wine evening in Vrbnik - 9 wines in 3 wineries & Krk delicacies
Vrbnik
9.3/10 based on 3 reviews